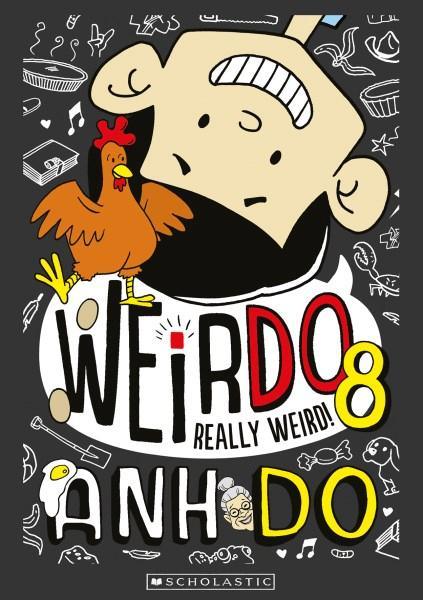 Anh Do (text),  Jules Faber (illus.), Really Weird (WeirDo #8),  Scholastic Australia, 1 April 2017,  160pp.,  $14.99 (pbk),  ISBN: 9781760276768
Really Weird is the 8th book in the popular WeirDo series by television presenter and comedian, Anh Do.  Similarly, to previous books in this series, it bursts forth with exuberance and cheerfulness, from the front cover with its moving holograms and an upside face of a smiling Weir, through the lively telling of schoolyard antics and family escapades, accompanied by amusing line drawings.
This 8th book features the events of the school Grandparents' Day and class barn dance.  We are introduced to Grandma Do who is even more eccentric and full of the joys of life than the remainder of the Do family.  Grandma Do tends to confuse or forget English words, hands out undesirable gifts (such as Weir's glow-in-the-dark overalls) and generally embarrasses Weir in front of the other kids. But in the end, Grandma Do earns some proud moments when the other kids love her offering of Vietnamese food.  Grandma Do is savvy enough to work out where the missing pigs have gone and Weir's glow-in-the-dark overalls turn out to be very useful when there is a power failure at the barn dance.
Anh's text and Jules Faber's funny illustrations draw out the humour, pleasure and awkwardness in ordinary, everyday events such as Grandparents' Day.  For example, grandparents and their grandkids are drawn with, not only similar facial features, but also similar personal characteristics. The very debonair Hans Some's grandfather has come to Grandparents' Day turned out in top hat and tails, whilst Henry and his Poppy share an out of doors, down to earth, smiley look.
Weir's awkward, embarrassing experiences – to which kids can relate easily – are presented as normal life experiences, best managed with humour.   Weir's ethnicity represents a common life experience for the many children in Australia growing up in homes with migrant parents.
The beauty of the WeirDo series is in it's ability to interest a wide range of age groups and, at the same time, present a manageable read for struggling readers.   A cheerful, uplifting read for all ages, they are especially useful for encouraging reluctant readers.
Reviewed by Barbara Swartz