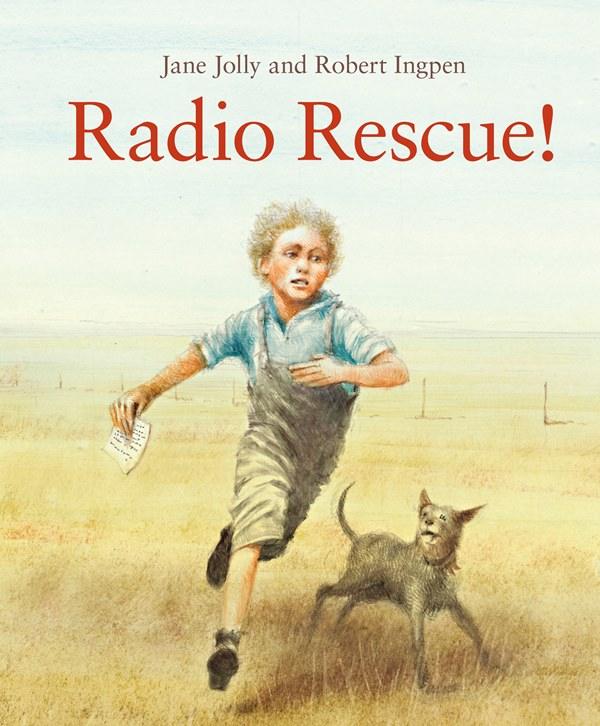 Jane Jolly (text),  Robert Ingpen (illus.), Radio Rescue!, National Library of Australia Publishing, Nov 2016, 36pp.,, $24.99 (hbk), IBSN 9780642278784
Radio Rescue! is about the coming of the pedal radio to outback Australia. The radio was the brain child of Reverend John Flynn, whose dream was to set up a flying doctors' service which outback people could contact in an emergency, and Alf Traeger, who could build high voltage generators which were necessary to power the radio transmitters which would be set up at townships and homesteads.
Radio Rescue! has two distinct parts: the first tells the story of Jim and his parents and how they loved the outback life but were lonely. Then Alf arrives, sets up the radio and shows the family how to use it to send Morse Code messages. The family initially uses it for sharing information with their neighbours until Dad injures his leg and Jim has to call the Flying Doctor.
The pictures for this section are on open flap pages with black and white sketches which open up to brightly coloured pictures. The pictures are sketched so that the reader feels that they are looking down on, or alongside or behind or in front of the land and its people – as if they are not aware of us and we're peeping into their past.
The second part of the book provides the history of the radio, and how Flynn and Traeger came up with the design they did. There are photos of Alf Traeger using the radio, a group of women using the radio, the School of the Air and the arrival of a doctor on a light plane.
I really enjoyed Radio Rescue!: the story and the history; the pictures, maps and photographs. My only gripe was the reminder of the attitude that women's roles were less important than men's at that time, e.g.:
'By 1935, voice transmission was possible and this was when the 'galah' sessions began. Most radio operators were women, the wives or daughters of station managers. They longed for the sound of another female voice. A time was set up when the women could chat to each other on air. They gossiped and swapped recipes.'
The implications being that women sounded like galahs; women only had roles in relation to the men in their lives, wife of or daughter of, and when women talked, they merely 'gossiped' and swapped recipes.
Radio Rescue! is suitable for children of primary school age.
Reviewed by Katy Gerner