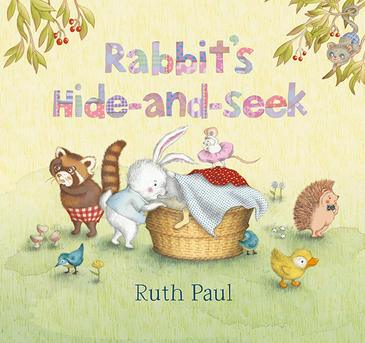 PAUL, Ruth Rabbit's Hide-and-Seek Walker, 2014 unpaged A$24.99 NZ$27.99 ISBN 9781922077349 SCIS 1647865
Here Ruth Paul has written her third story about a group of animal friends.  The book is a manageable size at 22½ x 20½cm and opens to generous fly leaves setting the scene with full spread illustrations of quite a complex, soft toned, hand-stitched patchwork.
The gorgeous patchwork blanket is repeated in different pictures throughout the book.  The animals sit on it at their picnic or use it to take cover under while hunting for others during hide-and-seek.  Rabbit is glimpsed sound asleep under it at the end.  There is a mixed group of creatures whose characters are conveyed a little by their costumes.  It does not break new literary ground but this is a happy story that sounds comfortingly familiar read aloud, and looks wonderfully pretty.
reviewed by Elspeth Cameron