Yvette Poshoglian (text) and Phil Judd (illustrations), Puppy Diary: The Great Toy Rescue, Scholastic Australia, July 2019, 96 pp,. RRP $9.99 (pbk), ISBN 9781760662936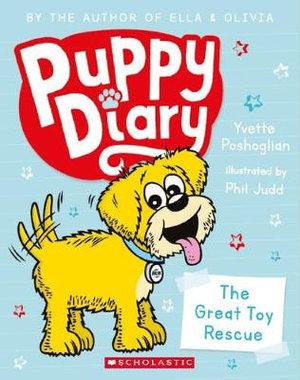 "Hello, Diary! I had the most amazing day today!" And so begins an entertaining adventure, written in the form of diary entry from a loveable, cheeky schnoodle puppy named Archie. Archie is excited about his first day at doggy day care, but his favourite toy, Foxy, goes missing. It turns out his new friends' toys are missing too. When they discover that a tabby cat, Geoffrey, is behind the disappearing toys, the puppies need to work together to retrieve them. In doing so, they learn that cats might not be so bad after all.
Puppy Diary: The Great Toy Rescue is the first book in a new series from the author of the popular Ella and Olivia series. It is an engaging and entertaining early chapter book, suitable for young readers. The font is well spaced and easy to read, with lots of graphic touches that are visually appealing, including words bolded or in larger font, speech bubbles, signs and easy-to-read lists. With 96 pages, it's not a super-short book, but it is broken into shorter chapters of a good length for a bed-time read.
The language is fun, has "pawtastic" puns and is well-suited to the young age group. There are some laugh-out-loud moments, often due to the descriptions of the world as it is seen through the eyes of a dog. Each page has less than half a page of text, accompanied by fun line-cartoon drawings which aid in understanding the story and make it more attractive for children.
Puppy Diary: The Great Toy Rescue is a delightful, humorous read, and I imagine the series will be popular with the early-reader age group. Book 2: A Pawfect Storm is coming soon!
Reviewed by Bec Blakeney