Eun-ju Kim (text), and Ji-won Lee (illustrator), Plastic: Past, Present, and Future, Scribble, August 2019, 36 pp., RRP $27.99 (hbk), ISBN 9781925849196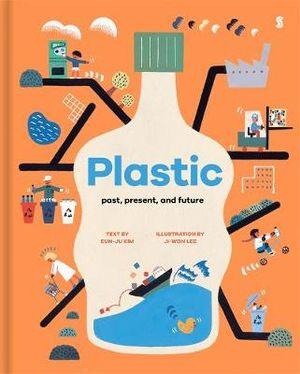 With plastic pollution becoming an increasing issue in today's world, Plastic: Past, Present, and Future is a very topical book. Kim and Lee present a comprehensive story of plastic; of its invention; how it is produced; its useful properties; where it's used; its environmental problems and possible solutions to these. I appreciated the whole story approach the authors selected; that acknowledged the useful properties of plastic along with its problems.
The book is quite interactive with the author posing questions along the way and the illustrations including small details to engage the reader. The text is simple and easy for independent readers, but also suitable to be read to younger audiences. Lee's illustrations are bright and colourful with a quirky cartoon feel that are simple yet effective in communicating ideas.
Despite the massive plastic problems bought up in this book, there is a hopeful and positive view taken highlighting what different countries and individuals are already doing to tackle the issue. A charming book with important information and practical messages for young readers to feel empowered to change their future.
Reviewed by Julie Bertola