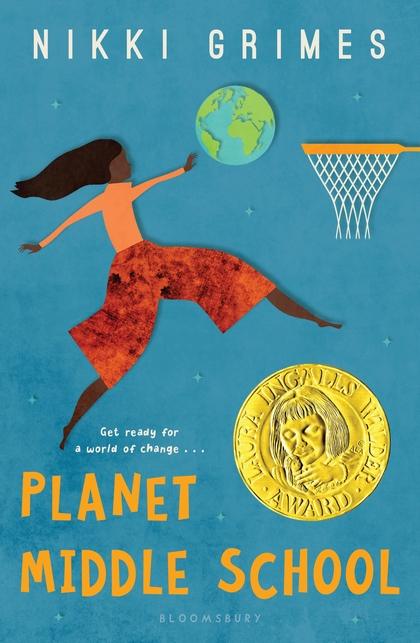 Nikki Grimes, Planet Middle School, Bloomsbury, 1 March 2018, 160pp.,  $14.99 (pbk),  ISBN: 9781619630123
Planet Middle School contains short poems of prose which capture 12 year old Joylin's musings about her life changes and new experiences of adolescence.  Award winning US author, Nikki Grimes, brilliantly portrays the awkwardness, uncertainties and sometimes painful experiences of adolescence, with humour and sensitivity.
Each short poem is similar to a diary entry written in Joylin's voice.   Through the poetry Grimes has concisely created a complex, wholistic main character who grows and develops.  Joylin describes herself as a tomboy with a talent for basketball – an identity that, until now, she has relished.   But suddenly Joylin begins experiencing rapid change, not only because she has started middle school – "new school, new teachers, new classrooms" – but also because she feels awkward around her childhood friend and fellow basketball player, Jake, and she needs to re-negotiate her friendship with her long-time friend, Kee Lee.   Added to this are the changes she is experiencing in her body and the realisation that she is noticing boys.  Then she starts to wonder, – if she wears more feminine clothes and make-up can she attract handsome Santiago's attention?  Finally, she learns some difficult but important lessons about being true to oneself and the importance of loyalty and kindness to genuine friends.
I loved the "teen friendly" yet descriptive language, such as Joylin's reaction to the changes in Kee Lee – "I know my friend is in their somewhere behind the lip gloss and wannabe stilettos" and the effect that a handsome boy has on her  "…suddenly I'm imagining my hand swallowed up in his, my head nuzzling his shoulder, my–".
Joylin is a likeable and warm-hearted character who cares about her friends and her younger brother,whilst managing her challenges and embarrassing moments with humour and a zest for life.  Even though the background context of the story is American, Joylin's struggles are normal and common ones for adolescents. I expect that Australian girls in this age group will identify with Joylin and love reading about her.
Reviewed by Barbara Swartz