Hiro Kamigaki and IC4DESIGN, Pierre Maze Detective: The Curious Case of the Castle in the Sky, Laurence King Publishing, 24 August 2020, 36 pp., RRP $29.99 (hbk), ISBN 9781786277244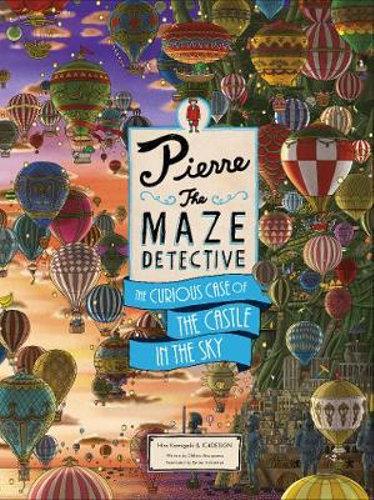 Pierre the Maze Detective: the curious case of the castle in the sky is another puzzle book in the Pierre the Maze detective series.
Pierre and his friend Carmen must navigate their way through a series of mazes to ensure that the precious Maze Egg is restored to its position atop the pedestal in the Castle in the Sky. There are also additional objects to find and challenges to solve along the way.
The colourful and intricate mazes occupy a full page spread and one could be well entertained for a long time simply looking at all the main details the talented IC4DESIGN team have crammed into a scene. The reader travels throughout Canal City, with its canals, gondolas and masquerades balls resembles a Venetian Carnivale and then across the sea by balloon to the more fantastical Root Island, to ultimately reach the Castle in the Sky. The small section of text at the bottom outlines the challenges for each maze.
I admit I am not the keenest puzzle person. I never really got into Where's Wally or anything like that, so I was initially reluctant to engage in the book. However, I found the mazes and hidden objects were not too difficult to complete, so I was able to maintain concentration and contain my impatience! For children, who perhaps are like me, I think this appropriate level of challenge is very important, so that they can experience a sense of achievement rather than frustration.
At the end of the book there are further challenges as well as the answers, which I think is a good thing, provided readers can resist the urge to 'cheat' too soon! The inside of the front and back covers also features an aerial drawing of the city that helps the reader position each maze within the context of the whole city.
For puzzle loving children this book is sure to please, and even for those less inclined to this genre it is definitely worth a look.
Reviewed by Julie Bertola