Sue Whiting, Pearly and Pig and the Great Hairy Beast, Walker Books, March 2022, 224 pp., RRP $15.99 (pbk), ISBN 9781760653590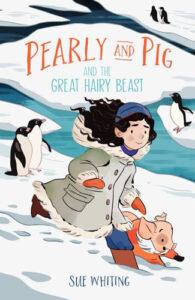 The first in a new series starring Pearly Woe and her pig, Pig, this middle-grade novel has mystery, adventure, and a heroine you'll want to cheer on.
The eccentric Woe family possesses an adventuring spirit, but Pearly Woe is not sure she's got what it takes to be a part of The Adventurologists' Guild. She has unique gifts, she can speak several languages, depending on her emotions, plus she can talk to animals and is particularly in tune with Pig, who is more of a sidekick than a pet. Pig's marvellous, almost magical, snout is what gets them into trouble, but also helps get them out. Pearly's parents are in trouble, and she is the only one who knows. In her efforts to try and help, Pearly accidentally stows away on an Antarctica-bound ship captained by the snarly Ms Woods. As Pearly tries to decode her parents' messages and work out Ms Woods' plans, she is forced to take risks and become the brave adventurologist she didn't know she could be.
This is a promising start to a new series. While the obvious themes are courage and overcoming fears, it is kind, gentle drama and action that is light enough for readers who don't like scary, confronting, or tense stories. Absent are friendship and school dramas, the action instead is out in the 'real world'. If you have a reader who enjoyed the Mango and Bambang series and is now ready for longer, more complex stories then this is a great option.
One inclusion throughout the book was the advice and tips for adventurologists, such as be prepared, but also be prepared to be spontaneous. I loved that the entire 'Rules and Guidelines for Young Adventurologists' was included at the end of the book, as there are some great little tips for being brave, curious, but also careful.
The reading level of this book is probably around grade 5-6, but the content is suitable for children as young as 6 or 7, making it a great one for a family read-aloud, or for youngsters who are strong independent readers who have moved beyond shorter chapter books.
 Reviewed by Cherie Bell