Bill Bennett, Palace of Fires: Beast Book (#3), Penguin Books Australia, September 2019, 416 pp., RRP $19.99 (pbk), ISBN 9780143783824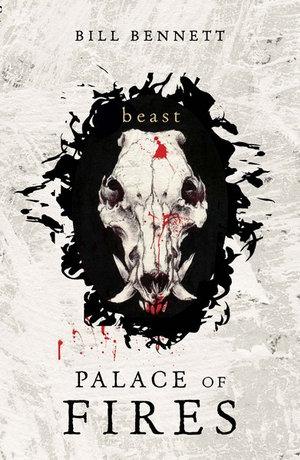 Three hundred years ago, Lily's ancestor broke a solemn promise signed in blood. Now she is thrust into a shadow world where Satan is real, witches exist and evil is an ancient living thing that seeks to wreak havoc and rule. The dark is coming, and only she can stop it…
The Palace of Fires series by acclaimed Australian filmmaker Bill Bennett is an engaging trilogy that is part fantasy, part supernatural thriller, layered with dark imagery and peppered with elements from the pages of history.
Book one – Initiate – sets the scene: Lily Lennox, the central character to the series, is a 16 year-old girl, trying to live the life of a regular teenager but unable to fully come to terms with the death of her father, and the ever-changing scenery of life on the road with her mother.
Lily knows she's different, but doesn't yet know why, or just how different from her peers she really is. No doubt that will be a familiar theme to many of us – that teenaged awkwardness, that feeling of not-quite-rightness, and wondering if just maybe there's a grand reason for it all? That perhaps destiny has something greater in store? As it turns out, Lily is the heir to Cygnet – a centuries-spanning secret society of "white witches", whose sole purpose is to fight against the ever-growing dark forces of the Satanic Golden Order of Baphomet. Lily's allies include her uncle Freddie (a famous surgeon and powerful witch in his own right); and Skyhawk (a young Native American man and shaman-in-training).
It's a fascinating concept and Bennett draws us in from the beginning with his well-paced and engaging writing style. He is very good at creating a strong sense of foreboding and unease, which definitely comes in handy when you're writing a book about witches and devil-worshippers. The first book sets the wheels of the greater story in motion and sees Lily on the run from witches, familiars, undead priests, hags and shape-shifting assassins. Clearly a lot of concept work went into developing this story, and I imagine it would have been a lot of fun coming up with all the different characters and their unique powers and abilities.
As in any three-act structure, the second act is invariably the darkest and most perilous for the characters. Book two – Unholy – puts our cast of characters into the worst possible situation they could ever be in. The title comes from the name of the long-awaited night upon which dark energies are at their strongest, and the forces of Baphomet will gather to perform unspeakable ritual sacrifices to secure their dominance over the world.
Bennett's writing is highly atmospheric and distinctly eerie in places. I think in this book he does it particularly well, as the sense of dread pretty much never leaves you throughout the whole thing. And just when you think maybe things are going to be okay, BAM – he hits you with a twist that I guarantee you won't see coming.
Book three – Beast – brings all the plot threads and characters together, for a climax in which the fate of the entire world hangs in the balance. How can our heroes possibly overcome the mountain of setbacks and terrible losses, and find a way to save the day? Well it involves Lily travelling to Japan to learn ninjitsu, but beyond that I'll keep the spoilers to myself! Suffice to say that the big players are on the field for the finale, and when that happens… all bets are off.
The end of the story leaves itself open to the possibility that there might be future instalments… at least, I hope so – enough of the key characters survived, and I felt as though there was potentially quite a bit more story left to tell!
I would place all three volumes of Palace of Fires in the late-teen category… very upper echelons of Young Adult as a minimum, as there is a certain amount of (quite graphic) violence, and also some sexual content.
On the whole, Palace of Fires is a trilogy of page-turners that will thoroughly entertain, thrill and even send a chill down the spine of discerning readers.
Reviewed by Christian Price