Paul Tobin,  How to Outsmart a Billion Robot Bees,  Bloomsbury, 1 April 2017,  352pp.,  $12.99 (pbk),  ISBN: 9781408881804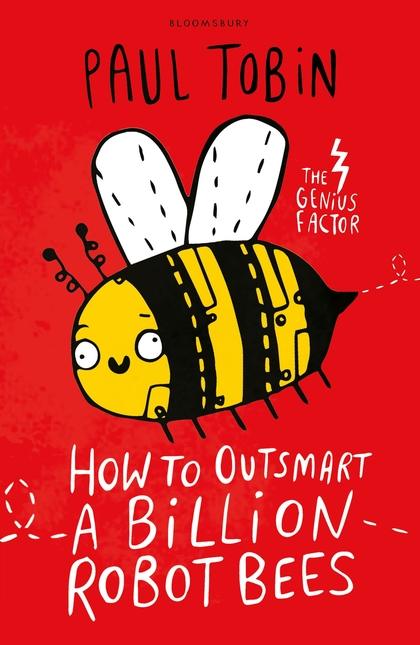 Filled with zany inventions, talking cars and dogs that are genius at maths, How to Outsmart a Billion Robot Bees is a mad-capped science fiction adventure.
Delphine Cooper and genius Nate Bannister are back in their second adventure together. This time, the Red Death Tea Society is after Nate's latest invention — the Infinite Engine. They also want Nate to join them and rule the world, but Nate would never join a society who believes intelligence is the only important human trait. So instead, Delphine and Nate must protect their town from a billion robot bees who have no scruples about stinging people in very inconvenient places.
The writing is super funny. It abounds with gag after gag after gag and I actually laughed out loud a few times. The characters are also well drawn — Nate has a real boy genius charm whilst Delphine is full of spunk and wit, and the elements of real science are woven in brilliantly, so that you can almost believe that Nate's inventions are possible.
But as I read on I found that sometimes the effort to make a joke took away from the story, with the book almost becoming like a stand up comedy routine. This makes sense when you factor in Tobin's impressive background in comics where the pictures convey a lot of the comedy, but it meant that the plot dragged in places, even though the word play was so fast paced. In fact, there were moments where I felt like the witty banter slowed the pace so much that the action it was trying to depict was no longer plausible and, by the end, I felt this really affected the overall story.
In short, this book is a total extrovert which, depending on your mood, can be invigorating or a little exhausting. There is no doubt that a lot of kids will LOVE it for its zaniness, its humour and its pace, but there will be others for which it will be a little too much.
In the end, How to Outsmart a Billion Robot Bees is an extremely witty science-fiction adventure with great characters, loads of fun, but an average plot.
Reviewed by Renee Mihulka