Struan Murray, Orphans of the Tide, Puffin Books, February 2020, 352 pp., RRP $14.99 (pbk), ISBN 9780241384435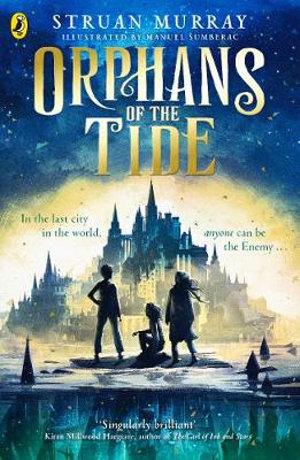 Orphans of the Tide, a debut novel by Scottish author Struan Murray is a stunning dark fantasy for middle-grade readers. Set in a world drowned by the ocean, The City is the last city left. All that remains is a jagged, frigid half-submerged cobblestoned gothic ruins, where spires and rooftops jut out from the ever-encroaching sea at the mercy of the tides.
The inhabitants of The City live in the constant shadow of a fear of dark gods, the darkest known simply as The Enemy.  The Inquisitors use their absolute control of the city to wield boundless power in order to subdue the rising of The Enemy. Superstitious fervour engulfs the town when a whale is washed up dead on a rooftop. When young inventor Ellie intervenes in the Inquisitors' actions, she deeply entangles everyone she cares for in a dangerous ancient myth.
Murray has created a wonderful isolated city with a culture of whale lords, island folklore and imaginative machines that exploit the abundance of ocean resources. The enchanting cover art and internal Illustrations and by Manuel Šumberac have a sooty, pencil-smudgy quality that convey the imposing gothic ambience of The City, Ellie's eclectic inventors' workshop and ruined cathedrals.
Ellie, Anna, and Seth are facing genuinely nasty and dark foes in an adventure that has very unexpected twists.  Their emotional battles traverse grief, friendship and bravery in a way that connects very deeply with the mythology of this world.
Anyone who has a curious mind that enjoys fantasy mixed with machines and inventions, whale lore, gothic sea tales, folklore, and even steampunk or religion will love Orphans of the Tide by Struan Murray. I am left with a sense of wonder and hope that there are more tales to come with Ellie, Seth and Anna and the hugely compelling drowned world of The City.
Reviewed by Angela Brown