Vianne Brian (text) and Clare Bradley (illustrator), Opal and Dart, Forty South Publishing, October 2022, 32 pp., RRP $24.95 (hbk), ISBN 9780645510119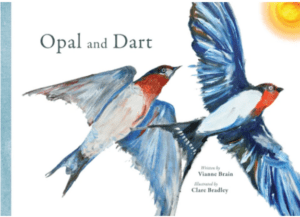 Opal and Dart is the simple story of two Welcome Swallow fledglings who migrate from Tasmania to Queensland for the winter before returning to Tasmania to nest. After a false start and some difficulties Opal and Dart have four eggs that hatch into fledglings continuing the life cycle and migration of this small but mighty bird.
Welcome Swallows are Australian native birds and the text mentions the threats they face from introduced species, in particular sparrows and starlings. When migrating the birds fly 1,500km in 30 days, this and other facts about the swallow's behaviour and abilities are covered in the text.
The text is complemented by Clare Bradley's illustrations which have a naïve quality that capture the movement and delicate nature of these small birds. A narrative non-fiction picture book, Opal and Dart was deservedly shortlisted for the 2023 CBCA Book of the Year: Eve Pownall Award.
Reviewed by Anne Varnes