Chrissie Perry (text) and Pete Petrovic, (illustrator.) Oops, I've done it again (Blabbermouth #1), Scholastic Australia, February 2019,  160 pp., RRP $12.99 (pbk), ISBN 9781760660956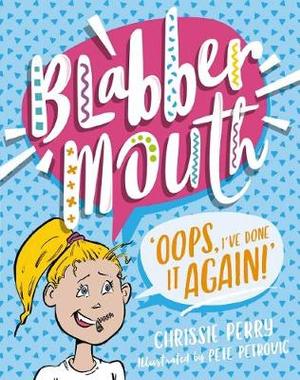 Blabbermouth is a super-fun read, deliberately pitched at girls aged 7 plus. Its focus is the titular character Amelie who is navigating Year 5 and her friendship group which contains one frenemy, Paris.
Engaging illustrations and different font styles are reminiscent of popular series such as Anh Doh's WeirDo and Jeff Kinney's Wimpy Kid and the style will make the book accessible to emerging readers.
Amelie is a self-confessed blabbermouth, always getting into trouble for saying the wrong thing at the wrong time. After one 'blab' too many, she hatches a secret plan to become the school newspaper's agony aunt. This, she figures, is her way to show her friends that she can be wise and discreet. At the conclusion of book one, Amelie's identity as the advice columnist Ava is still a secret, paving the way for more fun in the next volume. The beauty of the book is that we see how Amelie learns to move on from her first knee-jerk reactions to the problem letters to a more mature response. Readers see her first draft and then, after she's thought things through and gained new insights, her next draft. The publisher describes this as 'secretly teaching girls emotional resilience' which can never be a bad thing.
Highly recommended for ages 7 plus.
Reviewed by Heather Gallagher