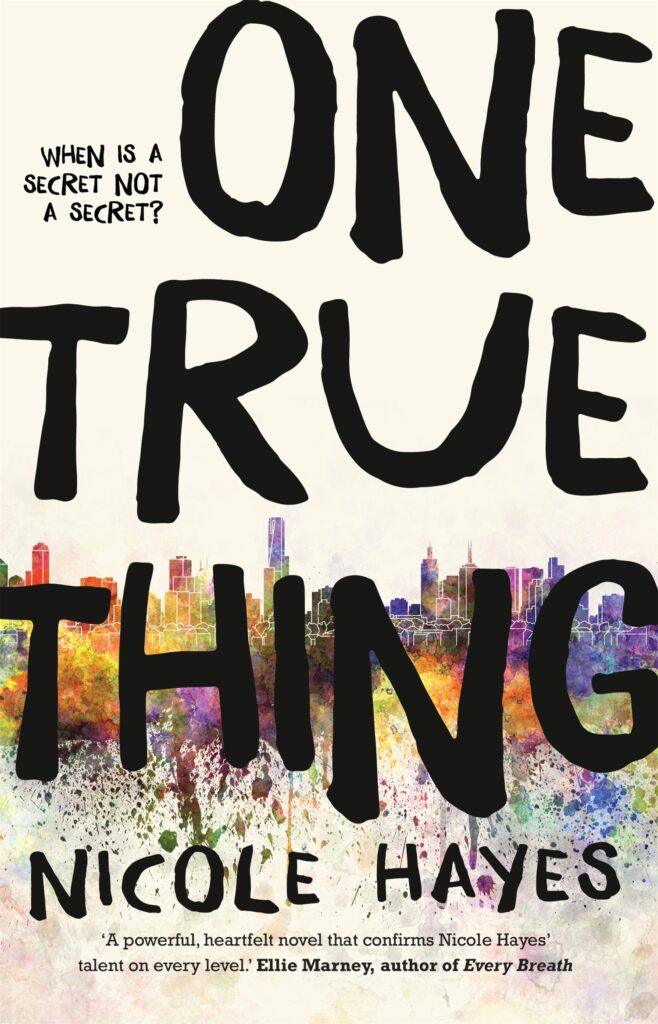 Nicole Hayes,  One True Thing, Random House,  1 May 2015,  389pp.,  $19.99 (pbk),  ISBN: 9780857986887
Sixteen year old Frankie seems to have it all. She's smart, has a loving family and she plays guitar in the band No Politics with her best friend Kessie.  She's also recently met a hot guy called Jake who is interested in photo-journalism and wants to do an article on her band. The problem is Frankie lives politics; ten months earlier her mother took up the position of Premier of Victoria and is now gearing up for the election that could see her become the first elected female Premier of the state. Now more than ever Frankie's family must be aware of their every move – where the flick of a phone camera or an angry word can make or break her mother's chances of re-election.
When life starts to go awry and the media circus discovers a skeleton in the closet from her mother's past, Frankie struggles to know how to deal with it all: Not only the invasive focus on her family and her mother's response to a savage media campaign, but the behaviour of the people she believed were her friends. When things reach crisis point and a serious incident threatens to derail her family who can Frankie really trust?
Writer, teacher and author of the highly regarded The Whole of My World, Nicole Hayes has created a wonderfully human character in her smart, funny and flawed protagonist Frankie.  A well paced, beautifully written young adult novel whose multifaceted and complex characters evolve and learn through their experiences. This is a book you may find hard to put down. Although it raises issues that are politically topical for Australian readers, the themes explored are universal in nature: love, betrayal, trust and growing up.  Highly recommended 13+. Teachers' Resources can be found on the Random House website.
Reviewed by Mem Capp