Sabina Radeva, On the Origin of Species, Penguin Random House, February 2022, 56 pp., RRP $16.99 (pbk), ISBN 9780141388519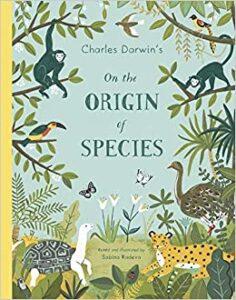 In 1859, Charles Darwin published On the Origin of Species a ground-breaking explanation of evolution. In 2019, Sabina Radeva a molecular biologist and illustrator used Darwin's work as the basis for a hard cover picture book. A curious choice but it seems to have paid off. I reviewed the paperback version of this book published in 2022.
Radeva's prowess as an illustrator and graphic designer is evident in every page. Many of the illustrations are works of art that I could easily imagine hanging on my walls. The icing on the cake is an insect chart inside the front and back covers featuring species that can be found by eagle-eyed readers within the book's illustrations.
Information is presented on topics such as Variation in Nature, Natural Selection and Mutual Affinities of Organic Beings. Quotes from Darwin's original work introduce and extend the information (some of the antiquated language in these quotes may need to be explained to younger readers). There is no shying away from difficult or complicated concepts. Each concept is explained in accessible language and supported by illustrations.
In the author's note Radeva points out that certain aspects of Darwin's original text are outdated. In these instances up-to-date scientific information is provided in the Appendix.
I found the flow of information in the book a little clunky. In particular, the links between the chunks of information provided were not always easy to follow. This was further exacerbated by the references to the appendices in the text which are not presented in order. Rather they start with Appendix VI followed by Appendix I, Appendix IV and Appendix V.
As well as Appendices, the title also has a Glossary and Recommended Reading. In this regard, it would make an excellent early introduction to scientific texts. I would recommend this book for late primary school readers who are interested in science, animals and evolution. For younger readers, some scaffolding may be required to successfully engage with the text.
Reviewed by Anne Varnes