Gavin Aung Than, Ocean's Revenge (Super Sidekicks #2), Puffin Books, September 2019, 160 pp., RRP $14.99 (pbk), ISBN 9780143795889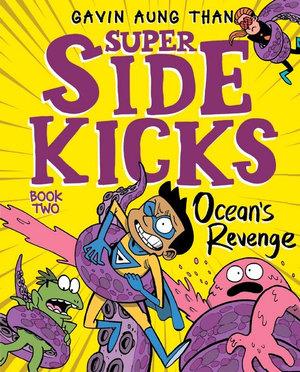 The Super Sidekicks – Junior Justice (JJ), Flygirl, Dinomite and Goo—have formed their own team after their grown-up partners constantly bullied them, and are back for their second adventure.
This time they must deal with a fast-moving unidentified object heading through the oceans for the city, threatening it with destruction. They team has to identify the source, solve the problem and offer a solution. It turns out that the object is a 'living' accumulation of plastic from the world's oceans because the Mother of the Seas is sick of humans using the oceans as a junkyard.
The environmental message is strong and is a good support for the current attention being given to demonstrations against climate change by young people across the world. This black and white graphic novel will appeal to reluctant readers because of its format but will also attract more competent readers through the strong message and the status the team creates for itself. Superheroes are sure to attract many readers, and of course the Sidekicks solve the problems and win over world leaders.
Reviewed by Maureen Mann