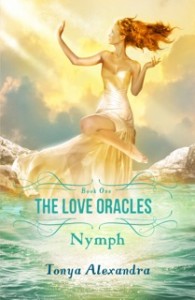 ALEXANDER, Tonya Nymph Walker (The Love Oracles: Book 1), 2014 424pp A$19.95 NZ$22.99 pbk ISBN 9781922077240 SCIS 1646939
Merope is a nymph, one of the Pleiads.  She refuses the attentions of Orion and is banished to Earth.  It is forbidden for goddesses and mortal men to have relationships.  This doesn't prevent her falling in love with a local boy, Lukas, and he with her – with a little help from Eros.  Zeus is seriously displeased by this and sends down all sorts of punishments and she is finally returned to Olympia.
The interweaving of the ancient Greek myths and mythological figures into the story is well done.  It seems logical too, that Merope and her uncle Prometheus should come down from the heavens to an idyllic Greek island.
The book is a little too long, however, and has the feeling of being somewhat repetitive in parts.  It could have done with a bit more editing.  In addition, there are points in the story which require more than the usual suspension of disbelief.  Merope, perhaps unsurprisingly as she comes from the world of immortals, knows nothing about old-age and when confronted with it, by Lukas's grandmother, is repulsed by it.  How then, does she understand about 'continence aids'?
The book ends rather abruptly, setting up the way to a sequel perhaps rather too obviously.  Nonetheless, it is a book which will be enjoyed by those readers familiar with the stories of ancient Greece and will introduce some of the characters from those stories to another group of readers.
reviewed by Margot Hillel