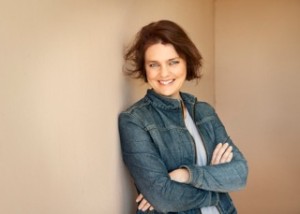 Tonya Alexandra reveals how childhood shaped her novel Nymph, first book in the Love Oracles series…
As a mother, it scares me how childhood moulds a person (am I doing enough for my kids?  Am I doing too much?).  But as a writer, I'm grateful for it.  When I'm asked 'why Greek mythology?  Why a love story?' my answer has to be: because I had an amazing childhood.
I was lucky.  My parents are romantics; Dad writes and paints, Mum plays piano and writes poetry.  Every day classical music echoed through our house.  My grandparents brought Greece alive for me – both modern day and mythological.  My grandfather told me stories of the stars, of Orion's belt, of their travels through the islands, stories so vivid Greece became like a dreamland to me.
My favourite toy was a typewriter, which I would use to type endless stories.  When I was nine I wrote a story about Orion climbing Mt Olympus; all sorts of obstacles were thrown his way.  I drew a cover of Orion standing with his arms outstretched like the constellation.  My teacher sent me to the principal's office for plagiarism.  When I convinced him I actually wrote the story he gave me a principal's award.
Did I remember any of this when I started writing Nymph?  No.  Nymph had been completed for months when I recollected this story.  Did I remember any of my grandparents' stories when writing Nymph?  No.  It came back to me when I started writing interview pieces.  Subconsciously it had sat within me.
I credit Jeanette Winterson's Weight for inspiring Nymph.  Weight called to me from a Manly library bookshelf.  I've always loved Jeanette's work, it is so poetic, but I realise now that the cover of Weight is almost identical to the cover I drew for my Orion story.  Did this resemblance unconsciously prompt me to pick up the book? Maybe.
I hadn't read any mythology but reading Weight struck me – I wanted to know this world of Greek mythology, I wanted to explore it, embellish it with my own imaginings.  And I wanted to do it like Jeanette did, where the gods were real characters you could relate to.  Researching was fun and exhausting.  The Greek mythological family tree is impossible to understand and there are so many bizarre tales of gods swallowing their wives or giving birth from their skulls or thighs.
I initially concentrated on Atlas.  One of his daughters, Merope, the youngest Pleiad star nymph, became my inspiration from there.  The myth about Merope is that her star in the Pleiades constellation is the dullest because she is ashamed of marrying a mortal and not a god.  I felt for Merope.  I wanted her to have a story where she wasn't ashamed, where she was able to explore what was beautiful and worthwhile about mortals.  I was able to do this by setting the Love Oracle books in modern times and have her fall in love with a teenage boy on a Greek island (think Mamma Mia!).  This allows for moments of comedy as Merope tries to understand Earth, technology and phrases like 'you're hot'.
The remaining two books are set in the realms of Olympus, the Underworld, and Poseidon's underwater domain, which has been very cool to imagine.  I entwine original myths throughout the books (even more so in books Two and Three, because of their settings) so readers effortlessly learn which god is which and what myths relate to them, while still following a sweet love story.
Feedback on Nymph has been interesting.  I've had some gorgeous tweets from girls who love it.  But what fascinates me is how frustrated some girls are by Merope.  She is too weak, they say, she doesn't make good choices.  It's encouraging to have girls responding this way to a character – feminism has come a long way.  What I'd like to explain to them is that some females are weak, especially a nymph who has been locked in servitude to ungrateful gods for millennia!  This is the point of Merope's story – to start weak and to grow because of her experiences with humanity.  Humanity is a beautiful thing, as is love.  (Yes – I am the product of two romantic fools!)
Uncovering how my own childhood has unconsciously affected my writing, I feel privileged that I could have an impact on the lives of other children.  The Love Oracles series will never win a Pulitzer and that's okay with me.  I want my books to be easy to read; enjoyable.  And if I can shape some kid's life by inspiring a love for Greek mythology or romance or simply a passion for reading books, my job is done.