Sandra Morris, North & South: A Tale of Two Hemispheres, Walker Books, February 2021, 40 pp., RRP $27.99 (hbk), ISBN 9781925381801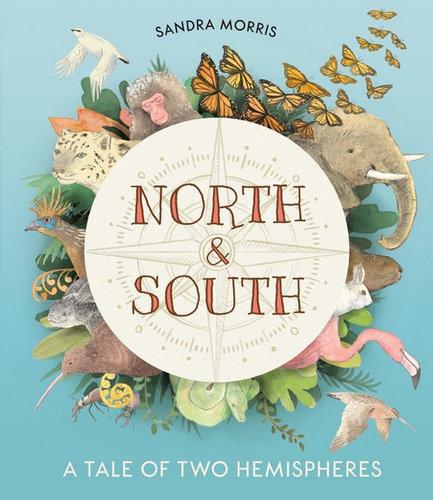 North and South: A Tale of Two Hemispheres by Sandra Morris is a non-fiction picture book tribute to the diversity of animals on Earth. Achingly beautiful, it reveals a story about how our imaginary perception of the globe divided into separate hemispheres influences our understanding of life on earth.
Each double page layout of this hardback picture book represents one calendar month. Within each month, two animals are featured, with the split layout representing the Northern Hemisphere/Southern Hemisphere and Summer/Winter. In the centre of each page is a striking watercolour image of an animal, bordered by the easy-to-read blocks of textual information.
There is also an overarching theme for each month, such as "armoured animal" or "building a home" to link together particular physical adaptations or behaviours related to the two featured animals. Thumbnail sized maps show an example of where that animal can be found on Earth.
North and South: A Tale of Two Hemispheres is aimed at children aged 5-8 years. The International Union for Conservation of Nature's (IUCN) Red List of Threatened Species status is included for each animal. Whilst this could be overwhelming for younger readers, the choice of animals raises awareness of endangered species, while still presenting a positive outlook overall.
With an index, glossary, suggested actions and further reading, Sandra Morris, an accomplished author and botanical artist, has created a stunning invitation for young curious minds to understand more about animals, geography, habitat, adaptation, and climate change, from all over our planet.
This book is a brilliant addition to youth conservation group resources, school and public libraries and would also make a wonderful gift book for young children interested in wildlife.
Reviewed by Angela Brown