Jackie French, No Hearts of Gold, HarperCollins Publishers, December 2021, 416 pp., RRP $29.99 (pbk), ISBN 9781460757925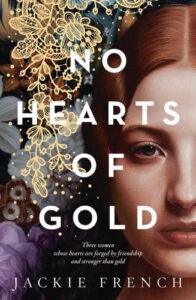 Some girls were not born to be good. Kat Fizhubert, Titania Boots and Lady Viola Montefiore – three women who were born to be more than just good.
 Kat grew up in England, wealthy and indulged, until a terrible tragedy shattered her exemplary life and everything she had ever known. Left orphaned, Kat's astute aunt arranges a marriage for her, to a stranger across the world in New South Wales.
Titania, widowed and destitute, but with outstanding business acumen, lunges at the opportunity to be a paid companion on a voyage to the Australian colony, in the hopes of creating a credible life for herself.
Noble Lady Viola of a ducal English family cannot escape the scandal of her birth and her contentious dark skin. Shamed and secluded from society, Viola is shipped away to the colony to live with her cousin.
Whilst enduring the long, horrific boat journey to Australia, the three women form an unlikely friendship, bonded by the shared desire for a fresh start. However, forging new lives for themselves in New South Wales proves to be a challenge. The convict colony built on thievery poses a new set of hurdles; corruption, the illness that is the gold rush, and Sydney's society itself, which doesn't welcome women of independence. Entrapped in scandal once more, the three friends would do anything for each other, including trickery transcending the reproach of law.
French's immaculate attention to detail throughout the entire novel casts the readers into the time and place of colonial Australia. She creates a vivid image of the lives of women during the mid-1800s and captures their complexities, and the parts of history which have failed to be written. The strong, distinct voices of the protagonists give a voice to the women of Australia's past and share their stories – the beautiful and the ugly.
History buffs, particularly those interested in colonial Australia will devour French's new meticulously researched No Hearts of Gold. This novel is best suited to readers 12+ years.
Reviewed by Olivia Sammut