Anh Do (text), and Jeremy Ley (illustrator), Ninja Switch! (Ninja Kid #3), Scholastic Australia, March 2019, 192pp., RRP $14.99 (pbk), ISBN 9781760662820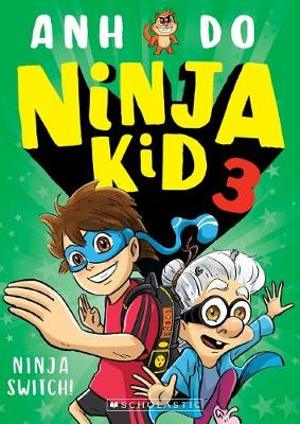 Nelson has always been skinny and unfit – that is, until he turns 10 when his innate ninja skills present themselves. Suddenly the prospect of competing in the approaching athletics carnival seems exciting. Surely his ninja skills will help him win a medal. But when the day finally arrives, Grandma and her inventions change everything.
The Ninja Kid books by Anh Do follow on from the success of his best-selling WeirdDo series that tell the story of a young boy adapting to the cultural norms of life of his new home and the complexity of family relationships in unfamiliar surroundings – big issues cleverly presented with humour and compassion. These elements make the WeirdDo series entertaining and rewarding to read.
While Ninja Switch! also contains adventure and crazy mishaps which young readers are sure to enjoy, this is not a book about anything more than that – as may be Anh Do's intention. There is no depth to the characters – their relationships remain static – and the story line is very predictable.
It is the drawings by Jeremy Ley that bring life to the characters and situations throughout Ninja Switch! and the clever inclusion of graphic text – at odd angles to the page or disproportionately large – that brings laughter and play to the story.
Anh Do is a much-loved personality admired for all his various forms of creative endeavour. While Ninja Switch! has a target audience of children seven years and over, early readers will find the vocabulary highly accessible while younger children are sure to be captivated by the illustrations as they follow the story as read to them.
Reviewed by Jennifer Mors