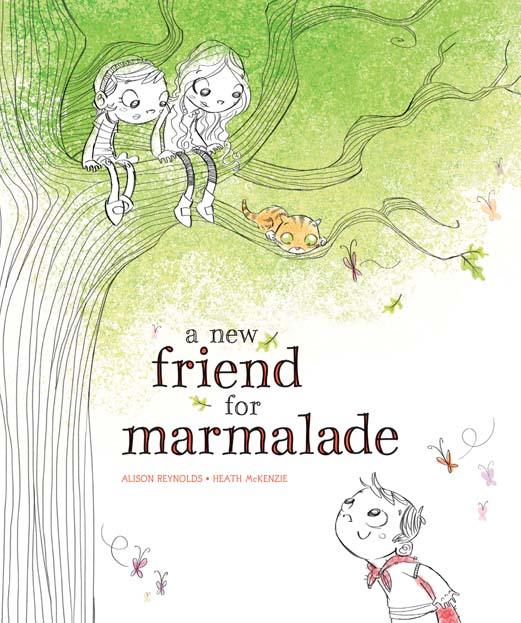 REYNOLDS, Alison (text) Heath McKenzie (illus.) A New Friend for Marmalade Five Mile Press, 2014 unpaged $14.95 ISBN 9781743466599 SCIS 1647200
Ella and Maddy are best friends, along with their ginger cat, Marmalade but each time they begin to play, everything is ruined by a cape-wearing boy called Toby from across the road.  He destroys their cubby house, their sandcastle and even rubs Marmalade's fur the wrong way.  He just can't do anything right.  One time, he even sends Marmalade scooting up the tree after he activates the sprinkler system, sending shoots of water into the air.  The girls are furious until they notice Marmalade perched precariously at the end of a branch.  They try to coax him down, but he's frightened and they're worried he'll fall.  They begin to run out of ideas for saving him, when Toby has a plan he thinks will work.
This is a cute book with a very cute cat and three kids who eventually become friends.  Although the characters are drawn in a kiddishly vibrant style, the black and white sketches placed against more vibrant parts of the page, create a slightly unfinished quality to the final artwork.
reviewed by Deborah Abela