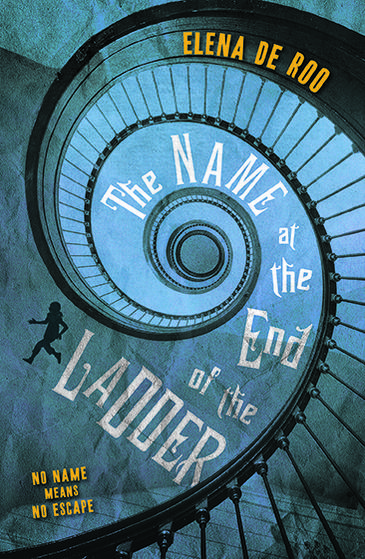 de ROO, Elena The Name at the End of the Ladder Walker, 2014 268pp A$14.95 NZ$16.99 pbk ISBN 9781922244475 SCIS 1672458
This engaging debut novel is set in a world where everyone has to choose their real name when they turn twelve.  People go to the Name Bank where they are helped by a Name Counsellor to make the correct choice.  September is determined to choose an original name, something totally different from the boring flower or tree names all her friends have.  Names have power as September soon finds out when she tries out a few.
At the Name Bank September is enticed into a tense game similar to snakes and ladders where every roll of the dice could mean disaster for her, her new friend August and others caught up in the game.  The idea of a character falling into the world of a game is not new.  Does anyone remember Jumanji, a stunning picture book written by Chris van Allsburg, which was made into a fabulous film starring the late Robin Williams?  The Name at the End of the Ladder has a similar premise but a totally original approach.  The girl, September, is a clever and resourceful hero and the boy, August, is also a likeable and interesting character.  The writing is fluent and the whole adventure carries the reader along to its satisfying conclusion.
Classroom ideas to support the novel can be found on the publisher's website.
reviewed by Mia Macrossan