David Hunt (text), and Lucia Masciullo (illustrator), My Real Friend, ABC Books, April 2019, 32 pp., RRP $24.99 (hbk), ISBN 978073333489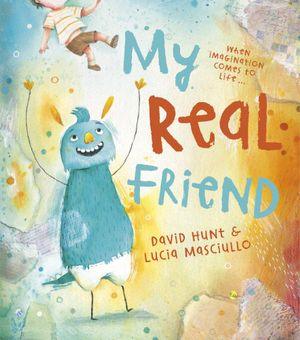 A beautifully illustrated tale about friendship, loneliness and imagination that explores the well-known comfort of the imaginary friend from the other side. The voice is of Rupert, William's made-up soul-mate. He tells of his exploits at the whim of William's imagination as blue monster, knight in armour, or tiny diver plunked in the fish bowl and the down-sides of being controlled and his fear of being forgotten. The heart tugging reality of growing up is that the holidays end and first day back at school, William meets Robert, a friend who replaces those days of make-believe fun-for-one. Clear, endearing illustrations with nicely toned paint washes and pencil detail, combine playful collage and media that feed into the story sub-plot. The similarities between Robert and Rupert show the reader that this new friend is all William hoped for: His imaginary friend come real. Teachers notes are available.
Reviewed by Liz Anelli
Read Romi Sharp's review here.