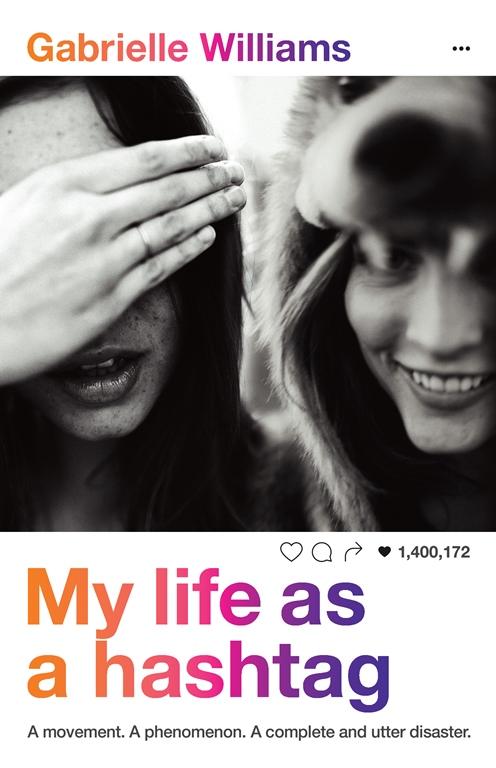 Gabrielle Williams, My Life as A Hashtag, Allen & Unwin, June 2017, 288pp.,  $19.99 (pbk),  ISBN: 9781760113681
Frankly, this book was excellent.
Modern, eye-opening, and almost too real, My Life as a Hashtag is definitely something for any millennial- especially those who identify as female – and something that, as a 16 year old with a social media account of my own, really resonated quite deeply. I feel like I simply must say it again- My Life as a Hashtag was excellent.
The book is centered on the life of 16 year old MC (Marie-Claude). After she kisses a boy that her friend called 'dibs' on, things start to go frosty within their entire friendship group. And after the same friend holds a massive party and MC doesn't get an invite, she decides to let it all out by ranting in the form of a series of fake videos, each of a celebrity supposedly mouthing off about the shunned friend… Videos that she promptly posts on her private social media account. Needless to say, someone soon finds the video series and, finding them hilarious, reposts them online, soon creating a viral, worldwide hashtag seen by millions. Woven throughout the novel, MC also deals with the sudden, unexpected split of her parents, her dad's new girlfriend, and the fact that her older brother has gone radio silent.
First and foremost; for some, I do believe that this novel may contain some triggers. I was certainly emotional in many sections whilst reading myself, and- as with any contemporary novel nowadays- it's certainly something to be considered.
That being said, for many, the confrontations that comprise a high majority of the book are also essential. The writing was excellent- connecting to the characters was incredibly easy, and sympathizing with them was even more so. Each character was also an excellent representation of the modern teenager- elements in all of MC's friends and 'followers' were characteristics seen in many real-life teenagers, which certainly only increased the relatability of the novel as an overall piece. Even the way in which the girls communicated and talked to one another throughout the novel seemed real in the context of the book- speaking with abbreviations and turns of phrases common to millennials nowadays. I also really enjoyed the style of the writing. Everything flowed very easily- which is how I managed to demolish the book in a matter of hours!- and it definitely 'showed' rather than 'told'. MC's volatile emotional state was displayed very skillfully throughout, and there was also plenty of character development on the parts of multiple characters- something that is not often seen at this level in young adult novels.
Ultimately, I strongly recommend My Life as a Hashtag as an excellent read. It is necessarily confronting for both parents and modern teenagers in terms of the issues that can arise from the abuse and use of social media, and really left a clear message in the heart and mind of the reader when done- I'll leave it to you to read it for yourself!
An absolute must read for anyone aged 14-15+. (Due to use of mature language and themes)
Teachers' Tips can be found on the Allen & Unwin website.
Reviewed by Amy Cooper