Zoë Ingram, My First Book of Sea Creatures, Walker Books, June 2021, 48 pp., RRP $27.99 (hbk), ISBN 9781406394924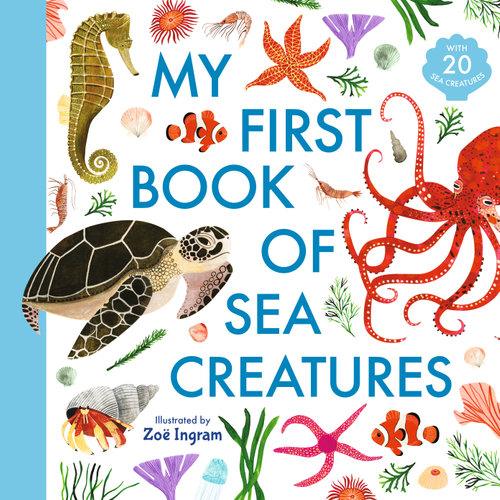 My First Book of Sea Creatures is a colourful and aesthetically appealing catalogue of some of our favourite, and even our most-feared underwater friends. Full of some interesting and perhaps little-known facts, this is a great introduction for any ocean-loving reader from preschool to even early readers who might wish to read the well-sized text solo.
From the clownfish to the might colossal squid, we learn all about the habitat, characteristics, and habits of 20 creatures of the deep. Each page has a 'Did You Know?' fact as well, which is where it is learned that colossal squid only need to eat around 30 grams of food per day. Not so colossal in appetite, hey?
The illustrations by Zoe Ingram are the drawcard of this book. Each creature is colourful, clearly illustrated, and the layout of the pages make it easy to read and digest. Not overly wordy, it is a simple, fact-filled read and a lovely addition to an avid sea-lovers library. An opportunity to connect with discussions on sea life, the Great Barrier Reef and ocean life in general.
Reviewed by Belinda Raposo