Gordon Winch (text) and Stephen Pym (illustrator), My First Book of Aussie Animals, New Frontier Publishing, May 2021, 12 pp., RRP $12.99 (hbk), ISBN 9781922326232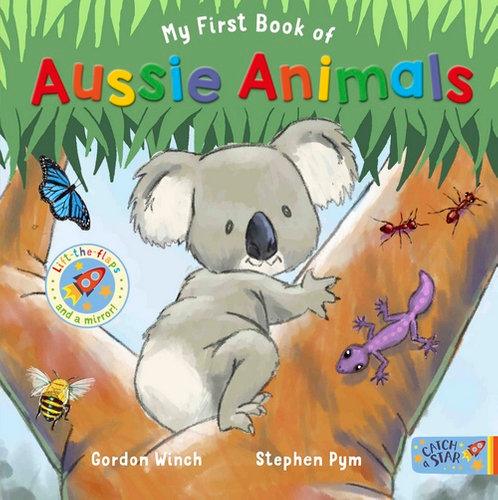 A striking lift-the-flap book that will engage many a young reader!
Beautiful illustrations and well-thought out text makes this book a perfect addition to the classroom or home library. Each page portrays a native Australian setting with the text, 'Look at me. What do you see?' Immediately the reader is invited in to take note of the finer detail, all of which provide clues as to what is hidden behind the ever-exciting flap. There are grassy, dry plains, yabby filled billabongs, healthy green eucalyptus trees, and a dark tree-lined street.
Once the flaps are lifted an animal character is introduced and the reader is asked three questions, all designed to draw attention to the finer details of the native Australian animal pictured. The final question, 'what else do you see?' begs discussion and interaction from the readers and encourages the development of rich descriptive vocabulary.
The repetitive writing on each page allows young readers to read along with the text, taking ownership of the narrative. It also supports discussions about punctuation (some sentences are questions) and adjectives (we can use words to describe what we see).
The final page is an absolute treat where the reader opens the final flap to reveal a mirror with the scaffold sentence, 'I am…' Once again, the reader is invited in to think aloud about their ideas and use some of the vocabulary learnt throughout the story.
From a teacher's perspective, this book has so many uses as an interactive text for preschool to year one students. From a parent's perspective, it is a book that my five-year-old son just loves to read along to, opening each flap and sharing his descriptive ideas. I highly recommend it.
Reviewed by Katie Mineeff