Kerry Edward, author and illustrator of My Busy Day, answers some questions about his book. We thank Kerry for this interview.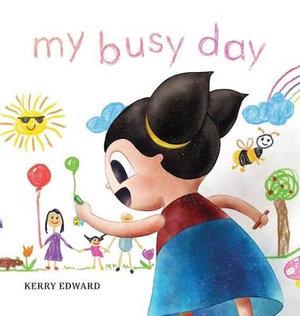 As an author/illustrator creating a book for the first time, what was your inspiration for writing My Busy Day?
I think like most first-time authors, the inspiration came from what I am most familiar with. For this book, everything is based on my daughter. She was 8 when I started making the book. At the time I realised that time has passed by so quickly. She was busy with school and doing her own things. As she gets older, our time together is becoming less and less. In the book, I tried to recapture the time when I was working from home and was able to watch every little thing she did at home. She is now 9 and becoming one of the most interesting people I know in my life. My opinion is obviously biased.
The illustrations in My Busy Day seem like textured watercolours on the page and sit beautifully over each double-page spread. Can you share with us how you created the illustrations and what sort of design decisions you needed to make?
All the illustrations were actually done digitally on computer. I am always a tinkerer when it comes to my illustrations. I try to add or change completely what I did. This means I couldn't do paper illustrations.
I started the illustrations with a storyboard. In it, I tried to make each spread noticeably different from the page before it. One spread is zoomed in. The next is zoomed out.
Once I was happy with the flow of the storyboard, I continued doing the spread. Since I was doing the 8.5×8.5in (21.6 x 21.6 cm) book size, I created the file size bigger. 80 x 40 cm in 300 dpi to be exact. There are 2 reasons why I did this. First one is to future proof it in case I am able to print it bigger than the current format. The second is I knew that scaling down the illustrations always make the illustrations have more detail. I learned this from the comic book industry.
The initial black and white line art layouts were done on an iPad Pro using Procreate. Once I finished the layouts, I continued on my computer using Photoshop and Wacom Cintiq 24HD.
The first coloured spread took me about 2 months to finish. The first month was to figure out the look and feel of the illustrations. I wanted something different from what I had done previously. I wanted just the lighting to be realistic. I wanted the combination of a nostalgic and current look and feel. I wanted depth. I wanted the viewer who sees it to feel like they are taken back to a time in their past. Around the same time, I also started learning about colour theories. I learned about how to make the colours complement each other and not to make the colours feel muddied. The second month was spent on adding and testing the lighting.
Once the first spread had the right look, I moved on to other spreads. I created a colour guide for the skin, hair, dress, dog. Basically, for the elements that pop up most often on the spreads. One by one I started colouring just the hair then the skin then the eyes and so on and so on.
But that created a problem. I didn't know how the lighting was going to be because I was working as if every page had the same lighting. All the items in the illustration became so much more in focus. Everything was fighting against everything else.
I stopped doing that immediately. I decided I needed to do value exploration. Just black and white. From doing this I figured out the lighting. What was important and what was NOT important in the layout.
That process actually saved me a lot of time. I started finishing each spread quicker and quicker. Every now and then I went back to a previously finished spread to update the lighting to match the overall feel of the book. The lighting throughout the book was to mimic natural lighting, from morning until bedtime.
During that time, I also created a reference library. I copied many colour schemes that convey the lighting that I needed. I find it really helpful to be able to compare and contrast my lighting to other illustrations.
For those who are interested, I have process videos on my Instagram for the spreads in the book.
Will there be more adventures ahead for this family of loveable characters?
I have some ideas. I started writing but the writing took me somewhere else that is not related to the characters anymore. My imagination took me somewhere else. I will get back to it soon.
Can you share some of the positive aspects and some of the challenges in deciding on a self-published approach as an author/illustrator?
Positives:
I didn't have to go through the many layers of publishing companies
This simple story is exactly what I wanted to do. I am a designer by day. I know how to design a book and preparing it for print
This accomplishment was something that I thought I never achieved. Now I know that I can do it if I set my mind to it
My daughter can boast to everybody that the story is based on her
Some parents and kids who have seen the book were really into the illustrations. When I see that little smile on their faces, I feel so happy.
Challenges:
It took me a year and a half to finish it. I worked on it mostly at night times. Putting in 1-2 hours every night
The costs. I can't compete with publisher pricing. My book price is slightly higher compared to other picture books
The self-doubt about the product itself. Like most people, I tend to look at what I do in a negative way
The marketing for a picture book from an unknown creator. I don't know anything about marketing a picture book. I am learning though
Read Angela Brown's review of My Busy Day