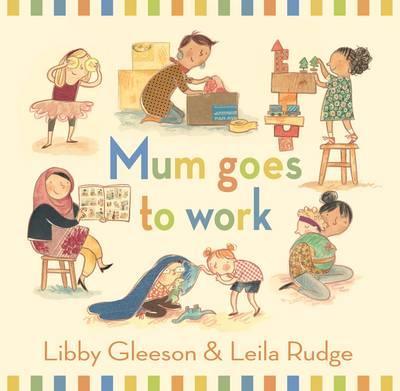 Libby Gleeson (text) Leila Rudge (illus.) Mum Goes to Work Walker Books, 1 April 2015, $24.95 (hbk),  32pp., ISBN 9781921529825
Originally published in 1995 with illustrations by Penny Azar, this updated version is given a fresh new life with Leila Rudge's lovely soft water colour and pencil illustrations.
Everyone is arriving at the childcare centre.  The first double page spread is a mine of visual information about the characters which we follow throughout the story. Each subsequent double page introduces us to a specific mother and child or children and we see how she passes her time while the children play at the centre. There are many different careers described and often the children's play reflects the work their mother is doing.
Careful examination of the illustrations reveal many story lines which can be shared with young readers, such as Laurence's mother, who trips over a dog leash (the dog belongs to Ann's family) when serving in a café.  Then it is Max's mother, a nurse, who looks after her at the hospital.  When the parents arrive to pick up their children, Laurence's mother has a bandaged leg and is on crutches. This attention to detail is reflected in the delightful end papers, full of toys interspersed with work equipment such as a computer, calendar, clipboard, telephone and more. The illustrations support and extend the text in many ways. This book invites many re-readings. Suited to very young children and early primary school aged readers.
reviewed by Julie Long