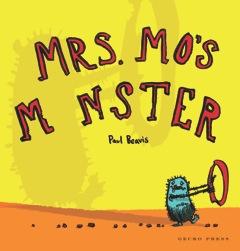 BEAVIS, Paul Mrs. Mo's Monster Gecko Press, 2014 unpaged NZ$19.99 pbk ISBN 9781927271018 SCIS 1657405 
What do you think might happen if there was a knock on the door, you opened it and a monster rushed in?  This is what happened to Mrs Mo and this monster has a compulsive obsessive disorder: it needs to constantly crunch, munch, and chew!  Whatever Mrs Mo is doing, the monster must also do what it does.  Now Mrs Mo finds this somewhat distasteful and suggests a new idea.  This puts the monster into frenzy; there is no way it wants to be subject to another.  It is after all a monster.  It carries on with its behaviour.  However, it thinks and thinks and then – what if?  Could it do what Mrs Mo does?  It tries this and it tries that and it struggles.  But they discover they can both cook!  They make a birthday cake for Mrs Mo.  Suddenly however, there is a knock on the door and two children rush in.  What do they do?  Bash, smash, and throw!  Monster is not happy about such rude behaviour!
This is a wonderfully quirky picture book where the illustrations play with the idea of representation adding to the sense of the fantastic and the marvellous.  Teacher notes are available.  What I appreciate about this website is the assertion of multiple themes that can be read into the text.
reviewed by John McKenzie