Harry Laing, Moon Fish: Poems to Make You Laugh & Think, Ford Street Publishing, May 2019, 32 pp., RRP $16.95 (pbk), ISBN 9781925804256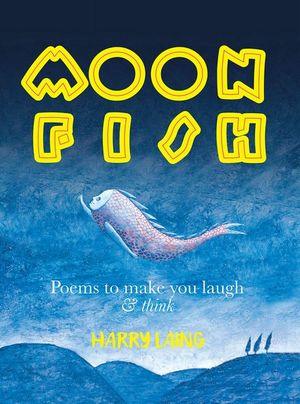 Laing has created a new collection of fun poems, written to be read aloud or performed. Several of the poems have fun sounds like tongue-twisters. "…That's my choice with my voice/ not the cheap cheese/ that's a cheer in your ear/ for the real cheese …". Creatures you wouldn't want to meet introduces us to the Grack which walks backwards and leaves no tracks. And many other strange qualities. It's Pizza is one long sentence which celebrates a favourite food. Ants! draws attention to many words containing these three letters.
For me, the great strength of the book are the illustrations which have been contributed by many of Australia's most prominent children's illustrators – Leigh Hobbs, Shaun Tan, Emma Quay to name three — and some newcomers too. They add to the zany concepts of the verbal texts and show us the TV Pug, the Angry Old Lady, and Pet Flea.
Reviewed by Maureen Mann