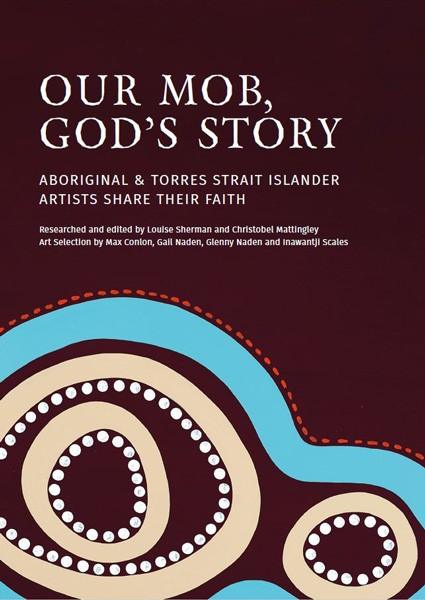 Louise Sherman and Christobel Mattingley (Editors) Our Mob, God's Story: Aboriginal and Torres Strait Islander artists share their faith, Bible Society Australia, March 2017, 237pp., $49.99 (hbk), ISBN: 9780647519585
Celebrating two hundred years of the Bible Society in Australia, Our Mob, God's Story is a collection of work by over 65 Aboriginal and Torres Strait Islander Christian artists. They have used traditional indigenous and Western painting techniques to create thought provoking paintings that depict events from both the Old and New Testament. The familiar Bible stories are given new life and energy as the vibrant colours of the Australian landscape are utilised in the traditional symbolic swirls, dots and lines of aboriginal art blended with European styles and forms. The resultant images are beautiful and inspiring as well as dramatic and elegant, with bold motifs that cross boundaries and fluently connect ancient culture with modern faith. The reader is challenged to pause, reflect and reconsider the relevance of the well-known religious stories when the juxtaposition of these artistic traditions results in fresh and unique visions of the Christian message. We see this, for example, in Daphne Davis' nativity painting where the wise men and shepherds are replaced by indigenous men with ceremonial markings, and instead of oxen and sheep there are kangaroos and emus.
Each double page opening has a brief description of the painting, some background information about the artists and their personal vision of the art they have created. A large colour plate of the art work is located on the right-hand page supported by a Bible quote that identifies the event depicted within the Christian tradition. Explanation of some of the symbols is given at the start of the book while the Forward by Mirian-Rose Ungunmeer Baumann explores the unifying importance of storytelling to all people and the spirituality of life that underpins and imbues the paintings.
Printed on gloss paper and with a sturdy slip cover, Our Mob, God's Story is a quality publication that has a place in every library. While it is a faith based text, it is suitable for use in the home and educational settings as a resource for the study and appreciation of art, culture, reconciliation and religion.
Reviewed by John Nolan