Katrina Nannestad (text) and Cheryl Orsini (illustrator), Mim and the Woeful Wedding (The Travelling Bookshop, #2), ABC Books, March 2022, 240 pp., RRP $14.99 (pbk), ISBN 9780733341663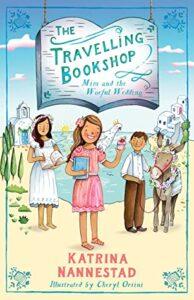 What could be better than a bookshop filled with books? A travelling bookshop, of course, that is much bigger on the inside than it looks and is filled with books that will change your life.
This second book in The Travelling Bookshop series, is as wondrous as the first. It tells the story of Dad, Mim and her younger brother Nat, who live in a travelling bookshop drawn by their horse, Flossy, who seems to know exactly where they and their books are needed. This time Flossy has led them to a Greek Island, where a wedding is about to take place. They soon make lots of interesting friends, including a bride or the groom who don't seem very happy about their upcoming nuptials, but Dad will make sure that they find the perfect book to work out just what it is that will make them happy.
This series is full of whimsy and humour. It is warm and huge-hearted with carefully drawn story threads that all come together perfectly at the end. Katrina is obviously in love with words, as is Mim, who collects them alongside other treasures she finds on her travels. Adding to the charm of the novel, are the drawings by Cheryl Orsini, who seems to have had as much fun drawing the pictures as Katrina has had in writing the story.
Highly recommended.
Reviewed by Deborah Abela