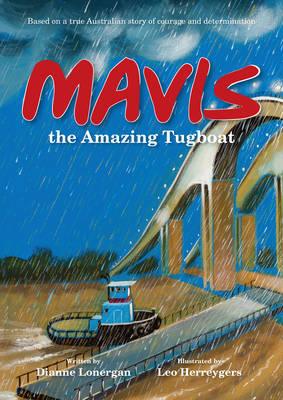 LONERGAN, Dianne (text) Leo Herreygers (illus.) Mavis the Amazing Tugboat Mater Private Hospital Redland, 2013 unpaged $14.95 pbk ISBN 9780987571205
This delightful story is based on a real event that happened during the 2010/2011 Brisbane floods when 'Thunder, lightning and roaring winds swirled and twisted down the coast' in a turbulent tropical storm.  On 11 January 2011 the Brisbane River was a raging torrent.  The banks had flooded, boats had come loose from their moorings.  All sorts of objects and debris were caught in the wild current.  That's when a 300 tonne concrete walkway managed to break free and a huge section of it started 'rushing uncontrollably downstream.' Someone had to stop it before it caused massive damage.  But who?  Who was brave and strong and clever enough?  The answer will surprise you.
This picture book, would appeal to kids of all ages.  It was written and published by the author and her team of volunteers at Mater Private Hospital Redland, using colourful illustrations donated by the illustrator.
reviewed by Wendy Fitzgerald