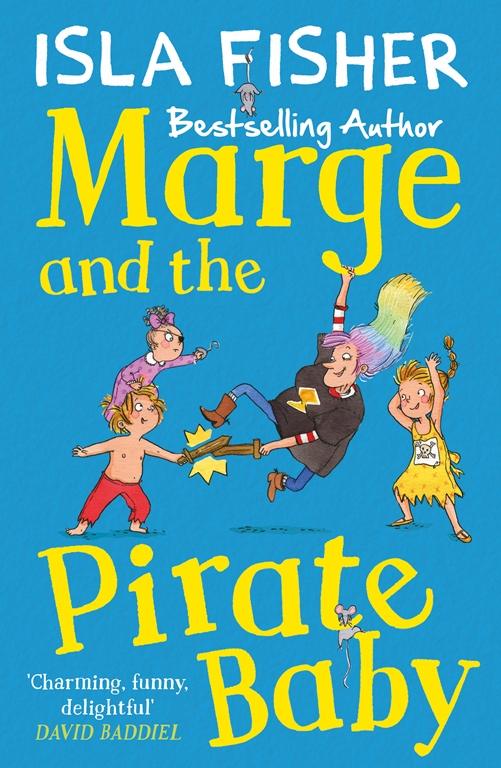 Isla Fisher (text), Eglantine Ceulemans (illus.), Marge and the Pirate Baby, Allen & Unwin, Feb 2017, 176pp., $14.99 (pbk), ISBN 9781848125933
With the 'pirate baby' theme featuring in each of the three collective stories, this junior fiction book is infused with a consistent wit and charm that is entrancingly unputdownable. Continuing the adventure from its predecessor, Marge in Charge, by well-known comedian and actor, Isla Fisher, Marge and the Pirate Baby is spirited, imaginative and loads of fun.
Knowing how to handle bad baby cousin Zara is challenging, to say the least, and each of the stories builds on the characters' wisdom in predicting her cheeky behaviour. But Marge's zany and wacky ideas are just the perfect antidote to help the kids, narrator Jemima and her little brother Jakey, keep Zara under control. The self-proclaimed royal and worldly explorer babysitter knows that babies are just like pirates, and so their adventures into the wild (and looking after the wild) must follow suit. Dressing up and setting the swashbuckling scene lulls the baby into a sea-swaying slumber, and uncovering the truth reveals a nappy full of stolen loot. Finally, the wedding day is saved with magic paint and the reclaiming of the gold rings from the pirate baby.
Marge and the Pirate Baby is well written and fast paced with some slightly sophisticated ideas for its early reader audience, but totally creative and imaginative all the same. The black and white illustrations woven throughout are intuitive and shrewdly entertaining, just like the quirky babysitter protagonist. This book will foster a new approach to the ordinary, but also create real conversations around responsibility and resourcefulness. Recommended for ages seven and up.
Reviewed by Romi Sharp