Jodi Toering (text), and Tannya Harricks (illustrator), Mallee Sky, Walker Books Australia, February 2019, 32 pp., RRP $24.99 (hbk), ISBN 9781925381672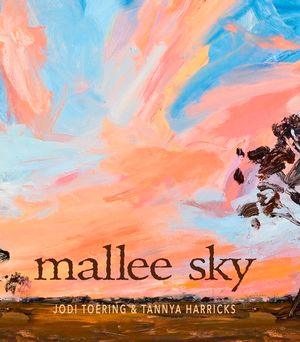 This story effectively highlights the struggle of drought and the effect of climate change.
I was instantly captivated by Tannya Harricks' illustrations in this book; They perfectly represent an Australia that is familiar to me – blazing sunsets, dreamy starlit night skies, and the dry and dusty earth. 
Jodi Toering's style is poetic and thought provoking. Her selection of words portray the heartache of drought through different lenses and perspectives. Mum fighting to keep the dust out of the house while clinging to hope, Dad standing on the veranda looking to the sky and hopeful for rain, the boy and his dog mindful of the need to conserve what water they have; and aware of the impact the drought has on their family and community.
Toering's words and Harricks' illustrations combine perfectly to represent the celebration of rain and the joy, hope and relief it can bring.
This story is relevant and appropriate as Australia experiences the lasting impacts of climate change. But it's a positive reminder to remain hopeful so that we too may dance in the rain in the future.
Reviewed by Raquel Mayman