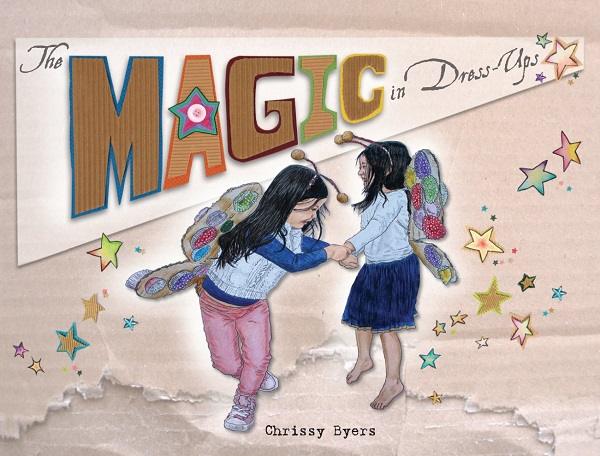 Chrissy Byers,  The Magic in Dress-Ups ,  Books by Chrissy Byers,  1 Sept 2017,  24pp.,  $24.95 (hbk),  ISBN: 9780994364821
In an increasingly sedentary and screen-based world, The Magic of Dress-Ups offers a refreshing opportunity for parents, carers and early years' educators to explore the simple joys of scissors, cards and glue with the young children in their charge. Written as a poetic recount, this book, the follow on from The Magic in Boxes, aims to inspire imaginative and creative play, by offering ideas and challenges rather than a story to re-enact.
The two little girls in this story use everyday craft materials to transform themselves into fairies, cats and mermaids. After constructing their costumes, the girls engage with imaginary play, the creative mixed media accurately portraying the way their imaginations help them to create very real worlds full of magic and fun.
Chrissy shares that the book was inspired by her observations of two real little girls playing, and their creative choices. She says, "If the girls had chosen to be frogs, pilots and chickens (instead of fairies, cats and mermaids), then that's what would have been in the book." The story ends with a blunt challenge – "Scissors, card and some glue – what can YOU do?" which Chrissy hopes will invite further creativity and new adventures in imagination and play for young readers.
This book, along with The Magic in Boxes, is essential for every Early Childhood educator's collection, for school and public libraries and would make the perfect gift for a young child. It is the type of book that could be shared countless times as a precursor to craft and creation, and an antidote for a technology-infused world.
A book trailer for The Magic of Dress-Ups is available on YouTube.
Keep up to date with Chrissy Byers' work through her blog.
Reviewed by Kay Oddone