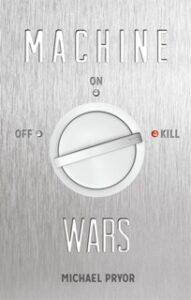 PRYOR, Michael Machine Wars Random House, 2014 279pp $17.99 pbk ISBN 9780857982766 SCIS 1654107
When artificial intelligence suddenly gains understanding and emotion it becomes exceedingly dangerous.  Bram and his friend Stella are at its mercy.  The story is written in the first person and the characters are not too deeply shaped, but do present as both caring and heroic personalities which offer positive virtues without being preachy.
The AI is called Ahriman and it slowly takes over the whole of the internet as well as producing killer bots.  With the help of Bob, another AI in the form of a fluffy duck, but on the right side of the ledger, the young teenagers must attempt to outwit Ahriman and save themselves and, of course, the world.
The story is fast paced but clearly aimed at the 11-15 year old readership.  To the discerning reader there are a few holes in the tale but I suspect that the intended readership will either not pick these up or not care.  Pryor has written a speculative novel that has a possible future, which makes the book somewhat stomach curdling.  A satisfying read.
reviewed by John Cohen