Adam Wallace (text) and Shane McG (illustrator), There's a Bull Ant in the Bedroom, June 2021, 24 pp., RRP $17.99 (hbk), ISBN 9781760973407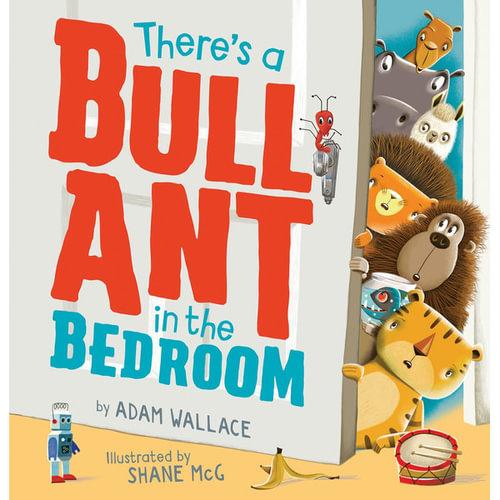 The presence of a bull ant is always cause for alarm. So, when that bull ant is in the house and it decides to bite someone, its removal is a priority. Unfortunately, the young lad who takes on the responsibility of resolving this and many other misadventures, decides that his sister's bed is the best place not only for a bull ant but all sorts of out-of-place animals that seem to find their way into all sorts of awkward situations.
There's a Bull Ant in the Bedroom will engage readers from the very first page with its lively rhyme and delightful illustrations. Author Adam Wallace has created a cheeky story in which all types of animals and a family of characters come together in a series of situations that are so crazy, they are almost believable. Even the few slightly out-of-sync rhythmic moments are easily forgiven.
Of equal importance to the success of a picture book is, of course, the style and suitability of the pictures. The beautiful, engaging illustrations of Shane McGowan bring each 'impossible' scenario bursting into life with his rich colour palette, lively design, and wonderful drawing skills.
There's a Bull Ant in the Bedroom is a book for looking at as much as it is for reading; pre-readers can easily follow the story visually and the clarity of the text and design makes the story accessible to new readers who wish to engage with the story on another level.
There's a Bull Ant in the Bedroom is great fun. It's also a clever book in the way Wallace has managed to introduce good life skills – problem solving, resilience, good humour and being part of a loving family – carefully disguised within its brightly coloured quirkiness.
Reviewed by Jennifer Mors