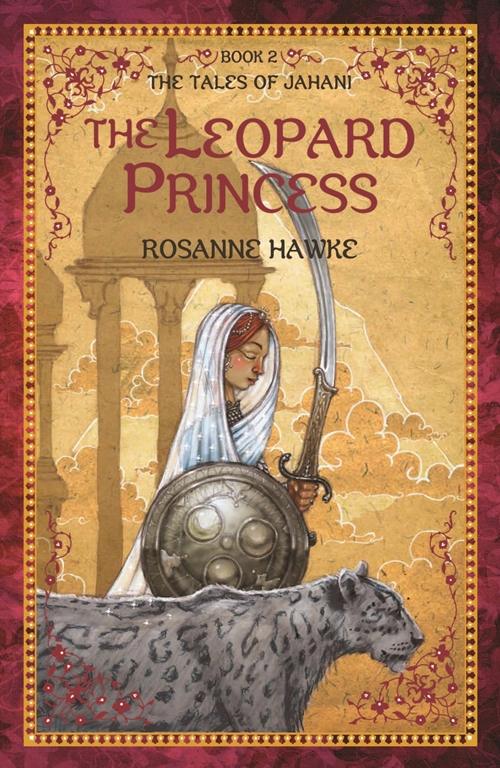 Roseanne Hawke,  The Leopard Princess (The Tales of Jahani #2),  University of Queensland Press,  3 Oct 2016, 348pp.,  $16.95 (pbk), ISBN 9780702254222
The Leopard Princess is historical fantasy fiction and follows the adventures of the red-headed Jahani, as begun in Daughter of Nomads. The series is set in the 17th century Mughal Empire. In Daughter of Nomads, Jahani's best friend is murdered and she has to make a series of escapes after discovering that she was the intended victim. At the end of the book Jahani is living with nomads. In this book, she has to leave the nomads and face many more ordeals until she finds her true destiny.
Readers will enjoy the captures and narrow escapes, the sword fights, the flying carpet, the handsome heroes, and the loyal talking animals. I didn't enjoy The Leopard Princess as much as I did Daughter of Nomads. I found it implausible that Jahani discovered that yet another woman is not her birth mother (the third). However, I still enjoyed the descriptions of the cultures Jahani encounters: the clothes they wear, the food they eat, the way language is used, and the social mores of the time. Jahani spends part of her time in a harem, and it was interesting to read how the young girls entertained themselves in their gilded cage.
Like Daughter of Nomads, The Leopard Princess contains maps of the Mughal Empire; a glossary of the words used; and names and explanations about the main characters.
The Leopard Princess is suitable for children aged 10 and over. Teachers' notes can be found on the University of Queensland Press website.
Reviewed by Katy Gerner