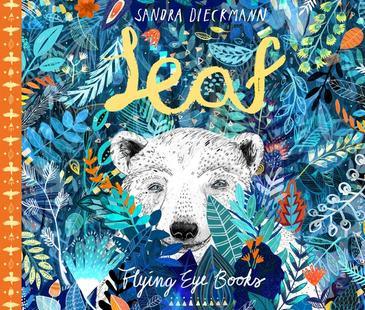 Sandra Dieckmann, Leaf, Walker Books Australia, 1 Sept 2017, 32pp.,  $27.99 (hbk),  ISBN: 9781911171317
Leaf is the story of a polar bear who arrives unexpectedly in the wild wood, far away from home. The animals in the wood fear this strange creature, and his strange habit of collecting leaves. Initially they are reluctant to confront him, but gradually they come to understand that he is not dangerous, just sad and lonely, and trying to get home.
The highlight of this book is the stunning illustrations. It's hard to describe just how incredible these illustrations are. Page after page, the story is brought to life through beautiful and colourful images that convey movement and a strong sense of emotion. There is a lot happening in the scenes, but also a clarity that makes it perfect for children. It is unsurprising that the illustrator (who is also the author) runs a hugely successful Etsy store and was chosen for the 'Emerging Talent in Illustration' prize in 2011.
Leaf's central theme is about understanding and helping outsiders rather than fearing them—an important lesson for children, especially in today's political climate. It also touches on the real-life plight of polar bears as global warming takes its toll on their habitat. Unfortunately, the text isn't as strong as the illustrations. At times the wording is clumsy, perhaps due to the way in the way it has been pared down for a children's story. However, I feel the illustrations make up for this somewhat.
Recommended for children 3-6 years of age.
Reviewed by Rebecca Blakeney