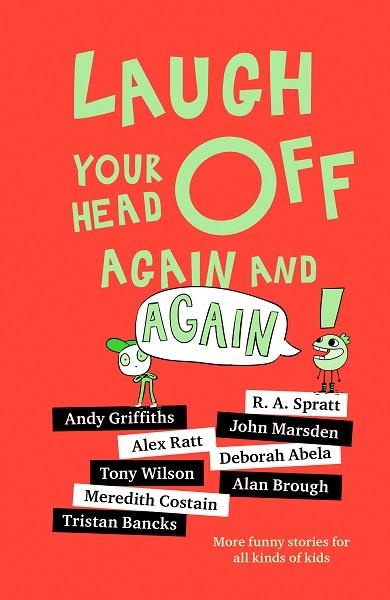 Andy Griffiths, RA Spratt, Alex Ratt, John Marsden, Tony Wilson, Deborah Abela, Meredith Costain, Alan Brough, Tristan Bancks (text), Andrea Innocent (illus.), Laugh Your Head Off Again and Again (Laugh Your Head Off #3), Pan Macmillan Australia, 31 Oct 2017, 215pp., $19.99 (hbk) ISBN 9781760553197
This book is a great way to introduce young readers to Australian authors, featuring humorous short stories from nine popular writers for children. Award-winning and best-selling author Andy Griffiths kickstarts the book with a funny yarn about a mischievous boy who torments his sister by taking too long in the shower.
There's a choose-your-own adventure, a mixed-up fairytale, a story about a creepy clown and – my favourites – a famous dancing dog that shows up a bully and a story about a girl whose surname is "Chicken". Each story is about 20 pages long, perfect to read just one or a few, or to share as a quick family read aloud.
I love the book's presentation. The bright red and lime green on the cover are repeated throughout, giving the book a fun, fresh feel. Each story is marked by a vivid lime title page, which shows through on the page ends too. The stories are illustrated with drawings in clean black and white and more lime. The lime is also used to highlight certain text and to give the page numbers a fun pop. This carefully considered use of colour makes this book a bit special, one to give as a gift perhaps.
The stories are by four female and five male writers. Just Alan Brough (the comedian from the ABC's Spicks and Specks) was born in New Zealand, but he's lived in Australia so long I reckon we can claim him as an Aussie. At the back of the book there's a page introducing each author, as well as Australian illustrator Andrea Innocent, along with an illustration from each's story and – in keeping with the humour of the book – something that makes each of them laugh. Budding writers can gain an insight into how the authors came to be writers and the inspiration for their stories. There's information about other books they have written so young readers can look them up too and most also include their websites for readers keen for more information.
Readers may also enjoy Laugh Your Head Off and Laugh Your Head Off Again.
Reviewed by Carissa Mason