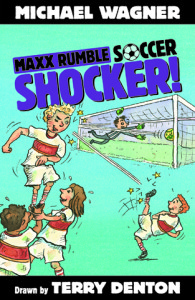 WAGNER, Michael (text) Terry Denton (illus.) Knockout! ISBN 9781922244802 SCIS 1657954; Shocker! ISBN 9781922244819 SCIS 1660824; Grand Final! ISBN 9781922244826 SCIS 1660822 Black Dog (Maxx Rumble Soccer), 2014 62pp $9.95 pbk 
One does not need to know anything about soccer or be a soccer fan to be caught up in this very enjoyable trio of stories.  They will delight any reader, no matter what might be their sporting interests.  For a good laugh they they are real winners.
Maxx Rumble whose sporting prowess also covers Australian Rules and cricket in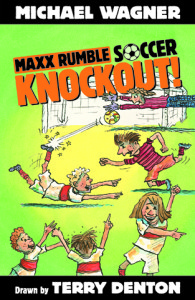 other series describes his valiant little Stone Valley Saints soccer team playing in a knockout competition, eight teams, seven a side, reduced to four in Round Two and the winners of that round playing off in a Grand Final in Round Three.  Maxx's team, which includes his young brother Rexx and a girl, Harriet Kewell, have, like her, the right names like Beckham, Best and Ronaldo.  In Round One they are up against the Kreepy Crawlies, a clever bunch (Benny Franklin, Bertie Einstein and others) who have trained a pelican to score goals for them.  Having managed to beat them, our Saints are confronted by the nasty Outhouse Rodents and it takes Maxx's best efforts to get his little brother from being sucked in by the wiles of the Rodent's captain's sister, Jennifer, to win 4 -3.  In the Grand Final they have to deal with an equally bad lot, the Plankluvin Pirates who chant piratical songs and who are backed by an equally bad lot of daunting abusive pirate families, all of whom have to be overcome for the Saints to finish victorious.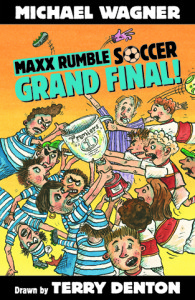 These valuably imaginative easy to read stories with their well-matched brilliant cartoon illustrations are just what would be just right for those sports mad young boys for whom reading is a chore, but they would be great for any reader, young and old, and good for story-telling sessions as well for aged 7 to 10 and up.
reviewed by John Adams