Jack Heath (text) and Max Rambaldi (illustrator), Kid President Totally Rules!, Scholastic Australia, September 2021, 304 pp., RRP $17.99 (pbk), ISBN 9781760976095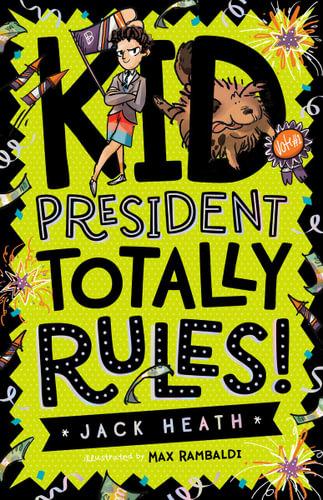 Jaxxon Mauriz is a pretty ordinary kid until a mix-up over his name leads to him becoming president of the country of Buttock. (Buttock was once part of Australia but seceded after a falling out with Queen Victoria over a plate of iced vovos.) Jaxxon is an unlikely politician. He spends a lot of time sleeping in class and doesn't know much about anything. The class president, Tiara Cupcake, would have been a much better option as she has all the answers and is politically aware.
Embracing the perks of presidential life, Jaxxon makes a number of executive orders in quick succession, most of which favour kids, including making homework illegal, free ice cream in school canteens and giving every kid the vote. His parents try to warn him that none of this will last, but he is too focused on turning the presidential residence, which he has renamed the Mothership, into a giant adventure park. When his class visits the Mothership, Tiara challenges him to use his position for good rather than for frivolous things, and over time he starts to see her point and make positive social changes.
But politics is not easy and once he starts shifting the status quo he finds enemies in 12 year old trillionaire Opal Kerchief, and vice-president Stufford, who begin to work behind the scenes to bring him down.
Whilst this is a chapter book, it is filled with hilarious illustrations reminiscent of the master of quirky kid books, Quentin Blake. Each chapter title is presented as a newspaper headline and the story moves along swiftly, with plenty of humour and plot twists, making it a very engaging experience. Jaxxon is an appealing character, whose ideas for ruling are very off-beat, but oddly successful, such as when he brokers peace through laser tag. His journey from uninformed and focused on fun, to socially and politically aware, is well paced and believable whilst also remaining consistently funny.
There is a good gender balance in the book, but no apparent diversity in other ways. The message of the story is evident at the end, when the younger generation start paying attention to politics and are able to make a difference to how Buttock is run. The absurd comedy of Jaxxon's adventures mean this is done in a fun way that young readers will enjoy.
Reviewed by Rachel Le Rossignol