Abi Elphinstone, Jungledrop (The Unmapped Chronicles, #3), Simon & Schuster, October 2020, 288 pp., RRP $14.99 (pbk), ISBN 9781471173684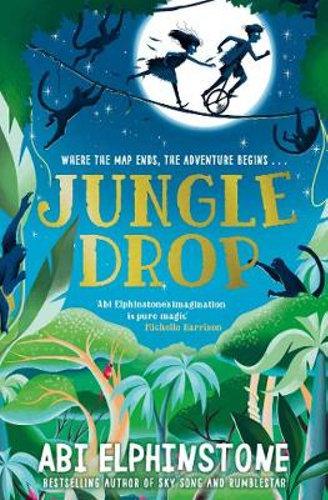 Fox and Fibber are twins, but their parents make it ever clear that they are first and foremost rivals. Only one of them will inherit the family fortune and love of their parents.
But when they are suddenly whisked away to Jungledrop, an Unmapped Kingdom in charge of our world's weather, they must learn to work together if they hope to track down the long-lost Forever Fern. But they aren't the only ones after this powerful plant. Morg, an evil harpy, will stop at nothing to get the plant and steal all the magic in the kingdom, destroying our world along with it.
In a magical jungle with the fate of two worlds in their hands, will Fox and Fibber be able to erase 11 years of mistrust and rivalry, in order to open their hearts and let kindness guide them together? Or will fear and doubt lead the to defeat alone?
A big theme of this story is that people can change. After being neglected their whole lives Fibber, and especially Fox, feel as though they are incapable of being loved, and were taught that to be kind was to be weak. This could very easily have resulted in them becoming cruel and unhappy people, as at the beginning of the story they are already quite selfish, self-loathing and rude. But when people finally show compassion, kindness, and care towards them, they realise kindness and love is the true path to success and happiness. Although it isn't easy for them, they put in the effort to improve, and it ultimately more than pays off.
Another key message in this story is the power of children: That they can make a difference on small and large scales, and that they aren't lesser than adults. There is even a more subtle message of how we must look after our planet and environment, and that everyone can play an important part in the world's future.
Jungledrop is the third book in The Unmapped Chronicles series. Even without reading the previous books, I found this story very easy to follow and enjoy. Following the twins in their dangerous and magical quest was quite exciting, particularly after the characters' significant attitude shifts. I would recommend this book to children aged 9-12 who like some action, adventure, and magic in their stories.
Reviewed by Libby Boas