Kiran Millwood Hargrave (text) and Tom de Freston (illustrator), Julia and the Shark, Hachette Australia, September 2021, 240 pp., RRP $19.99 (hbk), ISBN 9781510107786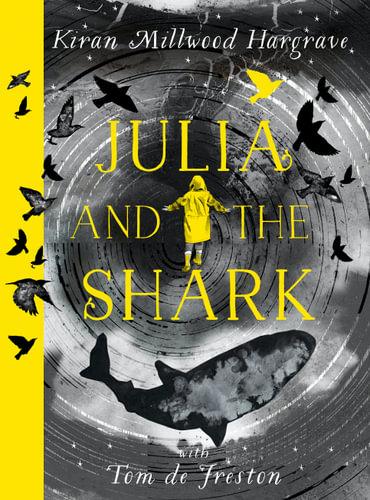 Ten-year-old Julia (and her cat, Noodle) finds herself on a remote Shetland Island for the summer, thanks to her eccentric parents. Her father is there to automate the lighthouse and her mother to search for a rare Greenland shark, believing it may hold the key to forestalling the ravaging effects of dementia. Before long, Julia's world is unravelling as her mother's scientific enquiry becomes an inexplicable obsession. Can Julia save her mother and her family? Or will the menacing shadow in her dreams, the one as big as the elusive shark, swallow her and all that she loves?
The wild, isolated island and raging seas are rich in metaphor and serve as an antagonist of sorts in this breathtaking story. The book's honest and sensitive portrayal of mental illness, particularly bipolar disorder, goes a long way to making a complex issue accessible and understandable to a young audience.
In his first collaboration with author-spouse Hargraves, illustrator de Freston has rendered a series of sensational drawings. Heightened by greyscale and yellow, they create a sense of foreboding, virtually pulling the reader into the ocean depths. Hargrave's lyrical prose, dreamscapes, realistic characterisations, and layered plot will similarly engage young readers, keeping them hooked till the finish.
Infused with heart and hope, this is a moving tale of the wonder of the natural world, one with a deftly woven environmental message. But ultimately, Julia and the Shark is an exploration of family, friendship, and community. And if we drill down even more, it is really a story about the love between a mother and daughter.
Highly recommended.
Reviewed by Maura Pierlot