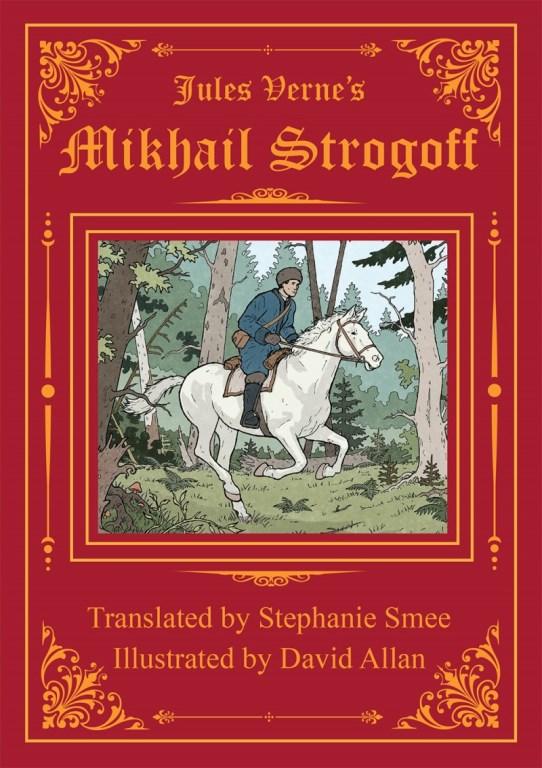 Jules Verne,  Stephanie Smee (translator),  David Allan (illus.),  Jules Verne's Mikhail Strogoff,  Eagle Books/Christmas Press,  April 2016,  337pp.,  $55.00 (hbk),  ISBN: 9780994234001
Jules Verne's Mikhail Strogoff is a classic adventure story set in nineteenth century Tsarist Russia at a time of great turbulence as foreign armies threaten to invade the Empire. Only one man, Mikhail Strogoff, has the skill and fortitude to traverse the vast countryside and warn of the invasion—but will he make it in time?
The story, by celebrated French writer Jules Verne, is a rollercoaster of good versus evil, man versus nature, and overcoming seemingly insurmountable odds. The brave protagonist is a hand-selected messenger who must endure the antics of scurrilous gypsies and devious traitors, survive terrifying storms and fend off wild animals.
But he is not alone in his quest. Mikhail Strogoff meets and befriends a young woman making the same dangerous journey in search of her father, as well as two international journalists, an unlikely pair of travelling companions, who appear along the way to add an element of comedy and interest. The plot twists and turns as Mikhail Strogoff races against the clock, constantly battling to outsmart his enemies and stay one step ahead.
In this beautiful translation by Stephanie Smee, the first in English in more than 100 years, a new generation of readers will enjoy the magnificent story-telling talent of Verne that has captivated fans the world over.
Jules Verne's Mikhail Strogoff is the first release for Eagle Books, an imprint of Christmas Press. Only 750 copies are available in a limited edition with gold-edged pages. Illustrations are by David Allan and include a delightful colour image inlaid on the front cover. Lovers of fine literature will appreciate the investment (RRP $55) as a special gift, or as an addition to the family bookshelves to be treasured by future generations.
Reviewed by Jane O'Connell