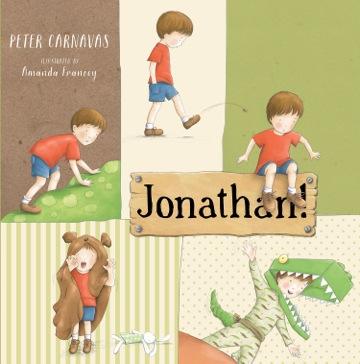 CARNAVAS, Peter (text) Amanda Francey (illus.) Jonathan! New Frontier, 2014 unpaged $24.99 ISBN 9781921928611 SCIS 1649353
Jonathan loves dressing up and trying to scare his family with a variety of disguises.  Too often the standard response is, 'Not scary, Jonathan'.  Poor Jonathan becomes so despondent that he leaves home and goes for a walk, only to discover a dinosaur in the neighbourhood.  Jonathan whispers into the beast's ear and then takes him up to the front door.  This creates the desired reaction but the punchline at the end is a delightful surprise.
The text is written in rhyme but this is not forced or contrived.  In fact, it is not glaringly obvious at all and becomes more apparent when reading the story aloud.  This sparse text is greatly augmented by the endearing illustrations.  Although realistic in style, some facial features are expressively shown with small dots for eyes and circles for mouths.  Use of colour and perspective is also well done.  This is an accomplished picture book with good text and attractive illustrations combining to create a satisfyingly whole story for the young.
reviewed by Lynne Babbage