L.D. Lapinski, Jamie, Hachette Children's Books, March 2023, 263 pp., RRP $16.99 (pbk), ISBN 9 781510110922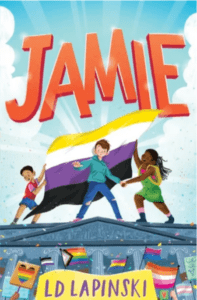 Jamie is an eleven-year-old, getting ready for secondary school in the following year and facing a dilemma. Jamie has two very best friends, Daisy, and Ash. Daisy will be going to the local high school for girls, Ash to the school for boys. This causes great concern and angst for Jamie who is devastated that the three will be separated into the only available secondary school system within their locale. However, the trauma of separation goes so much further. Jamie is non-binary. They don't see themselves as male or female and, try as those around them might, Jamie will not select a gender just to make life easy for everyone else. Everyone that is, except Jamie.
Jamie's friends and older brother Olly feel a great sorrow at this situation and sympathy for Jamie. They decide a plan must be enacted to raise the awareness of non-gender specific people—not everyone fits into a neat gender box or lifestyle. The usually reserved Jamie finds a heightened passion when under pressure from so many to 'stay quiet about it' and 'secretly conform'. This is not the answer for Jamie nor many others within the community so, with the brilliant support of devoted friends Daisy and Ash along with some geeing up from brother Olly, they go public in a big way.
But it isn't smooth sailing for these youngsters; change is never easy, let alone educating an entire community and changing conventions, but the journey is highly engaging as these three warm-hearted, loving friends go through all the ups and downs of socially imposed practices within their families and at an institutional level.
Jamie is a big book in terms of what it gifts to us. There is a huge amount of knowledge to be gained in the reading of Jamie that is carefully crafted in its delivery using both fiction and non-fiction writing genres with the latter providing definitions and information which is vital in the understanding of the LBGTQ community within which we live and work.
Finding a place in the world can be a struggle; a quest that can go beyond those formative years into adult life. But what happens when there is no 'fit', nowhere that feels right. Author L.D. Lapinski's uplifting and beautiful book helps us find answers through gentle prose and direct information.
I feel deeply privileged to have read this book. It has informed my previously incomplete understanding of gender differences, and, through straightforward writing and down-to-earth storytelling, the complexities presented to so many within our community. Jamie is about a more inclusive world, a place where diversity is embraced, and difference is to be applauded and welcomed. Thank you, L.D Lapinski. I have been educated, informed, and entertained.
Reviewed by Jennifer Mors