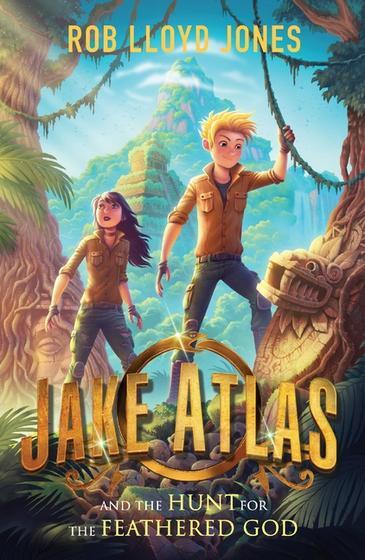 Rob Lloyd Jones, Jake Atlas and the Hunt for the Feathered God (Jake Atlas #2), Walker Books Australia, March 2018, 352pp., $14.99 (pbk) ISBN: 9781406377712
Jake Atlas and his treasure hunting family are back in Rob Lloyd Jones' brilliant, high-tech adventure sequel Jake Atlas and the Hunt for the Feathered God.
Following on from their first tomb-raiding adventure in Jake Atlas and the Tomb of the Emerald Snake, twelve year old twins Jake and Pandora are still reeling from the greatest discovery of all- their amazing family secret. As if hunting ancient Egyptian treasure and a face-off with the mysterious People of the Snake wasn't enough, Jake and Pan have had to come to terms with the fact that their boring historian parents are in fact, international treasure hunters.
Now the Atlas family are on the run from the international police but being cooped up in hiding and completing endless training simulations for their over-cautious parents is torture for the impulsive, risk-loving Jake and his genius sister Pan. In no time at all, Jake's reckless impatience plunges his family headfirst into a dangerous new adventure. And when Jake's defiant actions result in their tech-savvy friend Sami being poisoned, the Atlas family have no choice but to work for their fearful adversaries the People of the Snake.
Set in the treacherous Honduran jungle, the Atlas family face terrifying odds during their mission to locate a legendary lost city and the tomb of Aztec god, Quetzalcoatl. But ancient traps, wild jaguars, bullet ants and double-crossing betrayal are nothing compared to the ultimate challenge: getting along as a family and working together as a team.
This pacey title offers plenty of exciting plot twists, high-tech gadgetry and deadly, tomb-raider traps. The irresistible combination of geo-reconstruction and drone technology with the historical curiosities and ancient glyphs is a stroke of genius reminiscent of the author's own inspiration, taken from both the Indiana Jones and Mission Impossible movies.  As the tale unfolds we see a brave, reckless young man facing his innermost doubts and fears and learning a valuable lesson in caution and trust.
There are many comedic moments generated by the gutsy, outspoken Jake and the hilarious way his mum and dad react to things in typical parent fashion, even in the most dangerous of circumstances. Despite their unusual professions and the incredible situations in which the family find themselves, the author does a fantastic job of exposing the ordinary, relatable traits within his characters. As a parent, I found it particularly entertaining when Jake's mother chastised her children for swearing even as they faced certain death, and how she tries to prevent her husband from recounting wholly inappropriately descriptions of violent historical practices for their children. The author clearly understands how much a child reader appreciates a gruesome tale of Aztec sacrifice and a vividly painted cardiotomy.
This story will be a surefire hit for any thrill-seeking or historical adventure-loving middle-to-upper primary readers and a great text to use in a class story time, particularly before studying the Aztec civilization as a topic. The idea of getting to know one's parents seems to me, a valuable and rarely explored concept in children's literature and the underlying theme of family understanding and connection to one another adds an eloquent and entirely relevant layer of meaning for today's young readership, making this chapter book a great option for families to enjoy and share at home.
Reviewed by Lisa Hoad